Udaipur city promotes e-rickshaws on CapaCITIES project anniversary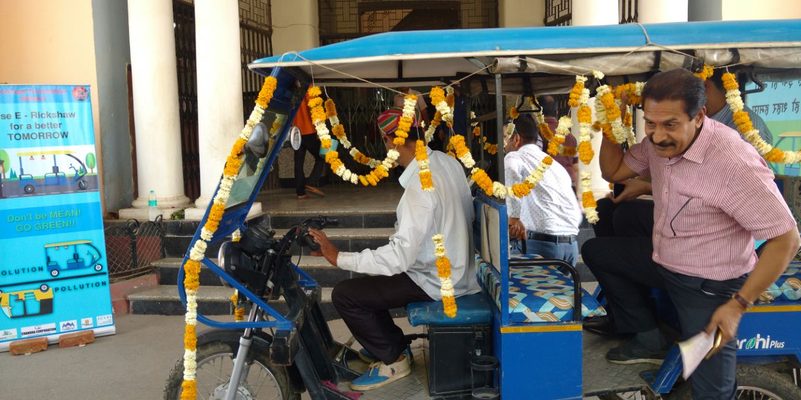 A two-day e-rickshaw promotional program is organised by ICLEI South Asia, and being implemented jointly by Municipal Corporation of Udaipur (MCU) on the 13th and 14th of April, 2018. The event is organised on the occasion of the anniversary of CapaCITIES e-rickshaw project.

Last year, in a bid to transform the IPT fleet and demonstrate the benefits of e-rickshaws in Udaipur (Rajasthan), Swiss Agency for Development and Cooperation (SDC) funded CapaCITIES project was launched on a pilot basis in March, 2017. It was inaugurated by Dr. Andrea Baum, the Switzerland Ambassador to India and Bhutan, and the project was handed over to the MCU.

Swiss Ambassador inaugurates the e-rickshaw pilot project in Udaipur in March 2017
After operationalising 18 e-rickshaws in the city, under the project, MCU now plans to scale up the use of e-rickshaws. This is after Udaipur has witnessed less traffic congestion and huge environmental benefits.
As part of the program, a to and fro e-rickshaw ride to MCU officials from their home to office and vice versa were given on day one. Officials including Commissioner, Mayor, Deputy Commissioner, Deputy Mayor, and other senior officials were part of the activity. The idea behind this was to generate a buzz about e-rickshaws, and the government support behind it.


Such an activity can have a positive impact on public, existing as well as potential PT (Public Transport) and IPT (Intermediate Public Transport) users, and potential e-rickshaw buyers. It may also inspire conventional auto drivers to shift towards cleaner technologies.
Around 10 CapaCITIES e-rickshaws were used on the first day and about 50 are expected to join on the second day. It is also proposed that the last year's stickers will be replaced with the new ones on the e-rickshaws given to the MCU.

On day two, a city-wide e-rickshaw rally (of all types – passenger, loader, school van etc.) with various awareness messages pasted on the e-rickshaws will be carried. School children will be given free ride in all the passenger e-rickshaws. And the drivers will be paid a daily allowance of Rs. 300 each to be a part of the promotional program.