Udaipur shares its Low Carbon Strategies at Climate Change and City Transformation Forum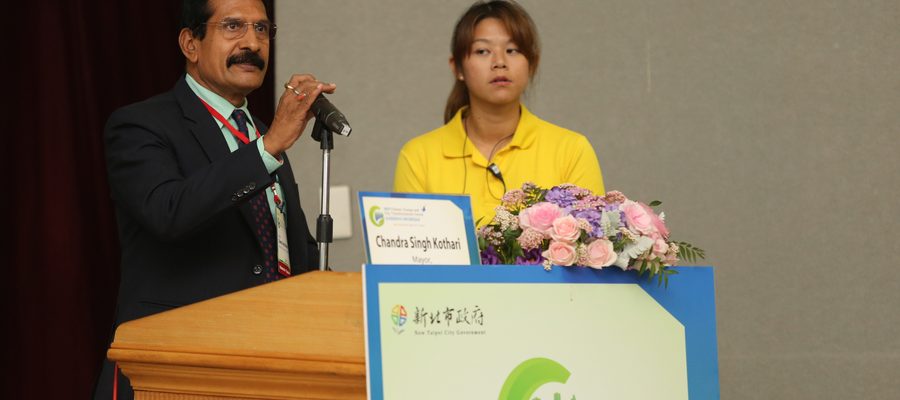 Mr. Chandra Singh Kothari – Udaipur mayor – presented the various ongoing low carbon initiatives in Udaipur city at the 2017 Climate Change and City Transformation Forum on the 29th and 30th of September, 2017. The event was organised in collaboration between the New Taipei City Government and ICLEI South Asia.
The Forum was guided by the theme "Climate Change and City Transformation" that focuses on the action items in order to achieve the priorities of the Paris Agreement. It also served as a platform for city leaders to share their experiences in tackling issues related to climate change and city transformation.
Highlighting the need to move towards low carbon urban development, Udaipur mayor presented various ongoing pilot initiatives in Udaipur with focus on solid waste management and low carbon urban mobility. The low carbon initiatives were appreciated by various international cities including city of Tabaco from Philippines and Moreland in Australia.
As part of the zero waste management strategies, he said that the city government initiated segregation practices in two wards on a pilot scale, in order to achieve the larger objective of sustainable waste management, with focus on reduction of GHG emissions from the waste disposal.
As part of the low carbon urban mobility, he highlighted that the pilot initiatives are steps towards addressing numerous challenges: deteriorating air quality, rising greenhouse gas emissions, and adverse rising energy security risks. The pilot initiatives include; electric rickshaws pilot, pedestrianisation plan for historic walled city of Udaipur, Parking management plan and Junction improvement projects to ease the vehicular congestion. As part of the pedestrianisation pilot, the road stretch from Rangniwas Chowk to Jagdish Chowk up to the City Palace Complex was selected. He said that the electric rickshaw pilot initiative will assist city to develop feasibility report and city-wide action plan for low Carbon IPT system for Udaipur.
City Mayor appreciated the technical assistance offered by ICLEI South Asia for above initiates. ICLEI South Asia is assisting Udaipur Municipal Corporation for the low carbon urban development also.