Urban95: Country's First Child Priority Zone Opens in Udaipur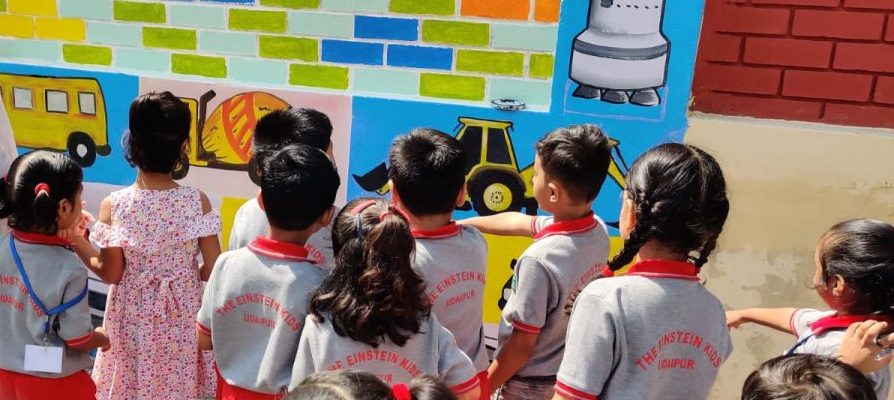 In an important milestone for efforts that aim to develop safe urban spaces for children, India's first Child Priority Zone (CPZ) was inaugurated at Hanuman Park, Ashok Nagar Udaipur, by Hon'ble Mayor Govind Singh Tank in September and present members Deputy Mayor, UMC Mr. Paras Singhvi, Ms. Rushda Majeed, India Representative, BvLF and UMC officials. The CPZ has been developed by the Udaipur Municipal Corporation (UMC) under the Second phase of the Urban95 programme, in collaboration with the Bernard Van Leer Foundation (BvLF) with technical support from Urban95 PMU (Joint venture between International Council for Local Environmental Initiatives – Local Governments for Sustainability, South Asia (ICLEI-SA) and Ecorys India Pvt. Ltd.).
The CPZ seeks to provide children and their caregivers with walkways that are free of traffic and less polluted. In the first phase, rumble strips and zebra crossings were marked near Hanuman Park which is catering as an anchor institute for the child priority zone and traffic calming measures with road signages were installed to control the traffic.
A cycle stand was built near the first gate of the park. The boundary walls and the road were painted with bright colors to attract and engage children, to enrich the journey experience approaching the park. A dedicated play area for young children will soon be developed inside the park as a permanent intervention of the project.
The inauguration of the CPZ was attended by India representative of Bernard Van Leer Foundation Rushda Majeed, Deputy Mayor of Udaipur Mr. Paras Singhvi, UMC officials, and the ICLEI South Asia team. In her welcome address, Ms. Majeed said, "Under this CPZ, various innovations will be implemented not only in the park but also in the surrounding streets and alleys." The park will have child-friendly paintings on the pavement and walls, as well as cycle stands, sand pits, swings, and a walkway, among other features. Mr. Singhvi said that such zones would help parents to spend more time with their children amidst nature and would encourage children to get spend more time outdoors. Mr. Emani Kumar, Executive Director, ICLEI South Asia, said that cities have a big role in the way young children learn and play, and contribute towards their healthy development. It is hoped that spaces such as the CPZ would make urban areas more inclusive and joyful, he added.