Visit of ICLEI President David Cadman to South Asia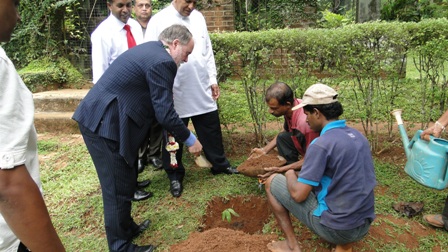 28 September – 8 October 2014 was a special time for all at ICLEI South Asia – ICLEI President Mr. David Cadman was here with us! Though the visit was short, Mr. Cadman managed to visit quite some places, speak at events and share his wisdom and knowledge with the ICLEI South Asia staff and city representatives.
The 2nd Asia BRT conference held in Ahmedabad, India, witnessed Mr. Cadman highlighting the importance of a BRT system in cities and its supporting services like walking and biking infrastructures. He also spoke about ICLEI's continuous efforts globally to promote sustainable transport, which further reduces carbon emissions in cities and helps in promoting the climate change agenda worldwide. Mr. Cadman applauded the efforts that Ahmedabad city has taken towards sustainable transport, in particular the BRT system, and highlighted the need for all cities to get inspired and begin their journey towards sustainable mobility. He also made a quick visit to Kolkata where he met the Commissioner, Chief Engineer and the Chairman of Howrah Municipal Corporation and discussed what the current issues in the city were and steps they could take to become a litter free city.
Next in line was Sri Lanka, where our President visited Colombo, Matale and Dambula and met numerous city representatives including Mayor of Matale, Mr. Hilmy Mohamed, Mayor of Dambula, Mr. Jaliya Opatha and other high level city officials. While in Matale, Mr. Cadman addressed the councilors and senior officials and also planted a sapling at the Municipal Garden.
President Cadman then visited Bhutan where he met Ms. Dorji Choden, Urban Minister, Bhutan and the Mayor of Thimphu, Mr. Kinlay Dorjee and other members of the municipal council where they jointly discussed the sustainable activities that Thimphu is undertaking and has undertaken in the past and plans for the future. Mr. Cadman also made short visits to famous city monuments, structures and cultural events.
ICLEI South Asia was honored to have our President here among us and ardently hope his visit was fruitful and that he had as much as a nice time as we did.