Webinar Underlines Importance of Circularity in Waste Management in South Asia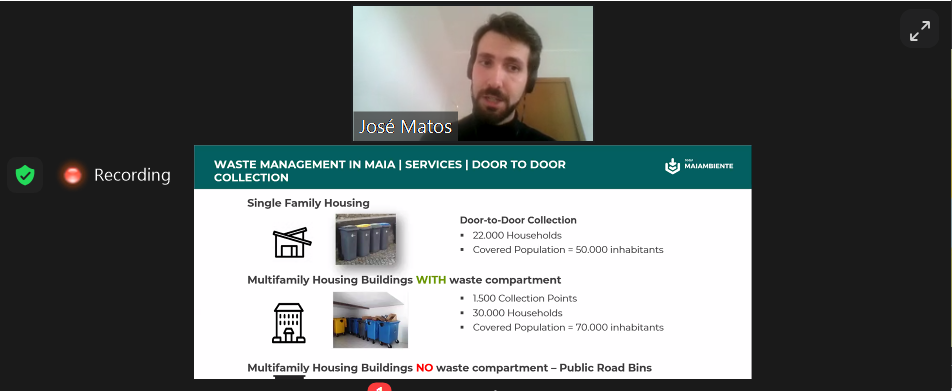 The generation of solid waste continues to increase globally in tandem with economic and population growth, and changing consumption patterns and lifestyle. Consequently, the focus in the waste management sector is shifting to reducing the quantity of the waste being generated. South Asia alone generates 334 million metric tonnes of solid trash annually, most of it being plastics. To tackle this gargantuan challenge, the circular economy approach – of reducing and segregating waste, and treating it as a resource – has emerged as a sustainable alternative to the traditional 'make, use and throw' model.
In order to build the technical understanding of Global Covenant of Mayors (GCoM) cities in South Asia on the integration of circular economy in waste management, ICLEI South Asia and the GCoM South Asia Technical Coordinator, with support of the European Union Delegation to India and GCoM's Country Coordinator India, organised a webinar on 'Holistic Management of Waste to Promote Circularity in South Asian Cities' on the 16th of December 2022.
It was convened as part of the GCoM South Asia webinar series, and aimed to improve the cities' capacity and understanding of practical approaches to solid waste management and circular economy through examples from India and Europe. The webinar illustrated the advantages of circular waste management strategies in comparison to the linear use-and-throw approach. The participants were also informed about the environmental and development benefits gained from implementing circular waste management systems.
Representatives of 15 South Asian and two European cities, urban development practitioners, and other key stakeholders working in the waste management space attended the event. Representatives of the cities of Albacete (Spain), Maia (Portugal) and Indore (India), as  well as officials from the Ministry of Housing and Urban Affairs (MoHUA), the Government of India, and experts from civil society organisations and the private sector spoke about different issues.
In her inaugural address, Ms Ruchita Bansal, Team Leader, Technical Support Unit, DAY-NULM, MoHUA, shared information on India's Swachh Bharat Mission (SBM, Urban), highlighting its targets, achievements, and current challenges. She underlined the importance of IEC materials and capacity building for improving waste management, and called for the creation of synergy between SBM and the circular economy for developing a holistic waste management structure. Dr Shyamala K. Mani, Senior Advisor, WASH and Waste Management, Public Health Foundation of India, spoke on circular economy approaches and best practices in the context of solid waste management.
Ms Soumya Chaturvedula, Deputy Director, ICLEI South Asia, highlighted ICLEI's support to South Asian cities in building a circular economy model through various pilot interventions. Mr Angel Prieto Sotos, General Manager of the European Centre for Business and Innovation, Albacete City, Spain, and Mr José Matos, Head of Street Cleaning Operations and Planning, City of Maia, Portugal, shared their experiences and perspectives on the solid waste management and circular economy strategies implemented in their respective cities. Additionally, they highlighted the numerous programmes that Maia and Albacete have put in place as part of this process.
Mr Siddharth Jain, Additional Commissioner, Indore Municipal Corporation, spoke of his city's achievements and how it came to be recognised as a regional leader in solid waste management. He emphasised the value of setting small goals and encouraging community involvement in order to achieve them.
Ms Sonali Beeraka, Social Impact Lead, NEPRA Resource Management Pvt. Ltd, focused on the importance of the private sector in promoting circular economy, while speaking about the business side of waste management and NEPRA's model. She also described the operational approach of NEPRA's Material Recovery Facilities in the cities of Ahmedabad, Indore, Pune, and Jamnagar.
Access the recording of the webinar here.
Know more about GCoM South Asia network and membership.