Workshop Discusses Viable Solutions for GHMC Plastic Waste Management Strategy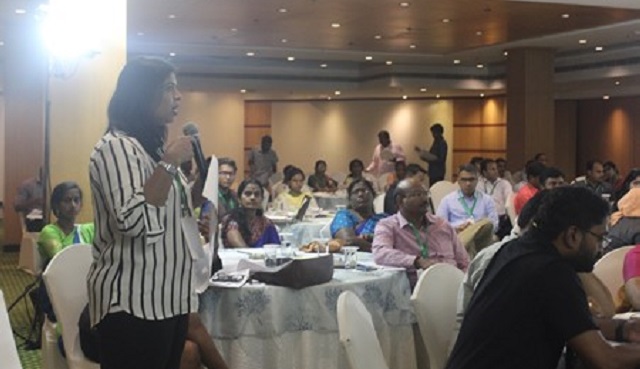 The second Stakeholder Consultation Workshop for developing the 'Holistic Strategy and Action Plan for Plastic Waste Management in Greater Hyderabad Municipal Corporation (GHMC)' was held in Hyderabad on the 1st of November, 2019.
The event was organised by ICLEI South Asia in partnership with the GHMC, and was supported by the IGES Collaboration Center for Environmental Technology (IGES collaboration with United Nations Environment Programme).
The event was inaugurated by Ms. Hari Chandana, IAS, Zonal Commissioner, West Zone, GHMC; Ms. Sikta Patnaik, IAS, Additional Commissioner, UC&D Section, GHMC; Mr. Srinivas Reddy, Zonal Commissioner, South Zone; Dr. Premakumara Jagath Dickella Gamaralalage, Programme Manager, IGES and Dr. Yoichi Kodera, expert in plastic waste processing, Institute of Advanced Industrial Science and Technology, Japan.
The workshop was attended by more than 60 people including representatives from the GHMC; plastic manufacturing industries, including the Telangana and Andhra Pradesh Plastic Manufacturers Association; organisations involved in plastic waste management, including the Ramky Group, Godrej and ITC-Wellbeing out of Waste ; institutions with monitoring and certifying responsibilities in plastic waste management, including the Telangana State Pollution Control Board, Indian Institute of Packaging and other stakeholders such as representatives of the World Wide Fund for Nature and WaterAid.
The gaps in the existing plastic waste management system and the proposed strategy for Hyderabad city were presented at the event. The workshop also disseminated the takeaways from the pilot interventions that were conducted in Naubhat Pahad and Adarsh Nagar in the city's Birla Mandir area.
The discussions focused on reducing plastic consumption by promoting commercially available and affordable alternatives to single-use plastics.
Creating a plastic waste collection and recycling loop system by involving self-help groups in the manufacture of alternative materials, promoting extended producer responsibility (EPR) as an economic tool to merge production with the plastic waste value-chain, developing commercially viable plastic waste processing businesses was discussed at the event. The workshop identified the need for stakeholder engagement to formulate practical, financially viable and sustainable solutions.
The stakeholders' feedback will be integrated into a strategy document to be submitted to GHMC.
The UNEP-IGES and ICLEI South Asia teams visited different plastic recycling and processing facilities in Hyderabad on the 2nd and 3rd of November. The team also visited the pilot project areas where ICLEI South Asia is promoting reduction of single use plastic.