This project has now been concluded.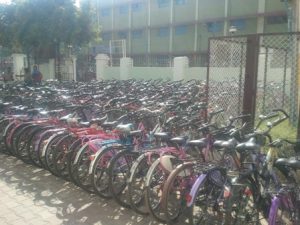 WHAT DOES THE ASSESSMENT AIM TO DO?
This project seeks to review the strengths and gaps of local governments in terms of their policy, capacity, resources and awareness towards non-motorized transport projects, as well as their willingness to implement non-motorized projects in their cities.
WHY IS THIS PROJECT REQUIRED?
There are several ambitious large scale developments taking place at the national level to focus on NMT as a key mode in Indian cities, however, these initiatives do not take into account the ground level realities in Indian city governments.
The Ecomobility Readiness Assessment project aims to bridge this gap, by assessing the actual levels of policy, resource and capacity development required at the local level in order to effectively implement NMT projects.
NMT is a key component of Indian cities already, whether as a last mile connector, to provide access to mass transit systems, or in heritage cities where it is a historically embedded into the cities' fabric.
WHAT ACTIVITIES WILL BE UNDERTAKEN AS A PART OF THIS PROJECT?
Step 1: Desktop review – this review will provide a baseline of the status and information available at a national level, and begin to give an indication of the segregated actions that have been undertaken at the local level to address NMT
Step 2: Inviting cities to participate in the assessment – cities in the country will be invited to take part in this assessment by providing a snapshot of information about the status of their city's NMT and through a signed commitment to carry out the assessment. Of 87 cities invited, 30 cities have responded
Step 3: Development of assessment tool – in order to most effectively capture the breadth of information required for accurately assessing the status of cities' NMT, a simple, yet comprehensive excel-based tool will be developed. This tool will inform the project by not just assessing the situation, but allowing the project team to pin point areas of improvement required in cities
Step 4: Assessment in cities – the assessment will be undertaken on ground in the participant cities. The tool is primarily meant to be a self-assessment tool by the cities. The tool will consist of questions by category, with a list of options in the answers column, where cities pick the most accurate option. Each answer will be graded from 1-5 and the points added up to give each cities total score. The assessment will be undertaken through interviews with the relevant city teams,
Step 5: Assessment matrix and recommendations basket – the completed assessment scores will be compiled to show how cities stack up against each other, what areas of improvement are required, and what are the key interventions that need to be put in place to further the agenda of NMT at the local level.
Project duration:
May 2012 – May 2013
For further information, visit the project website:
http://ecomobility-sa.iclei.org/index.html