This project has now been concluded.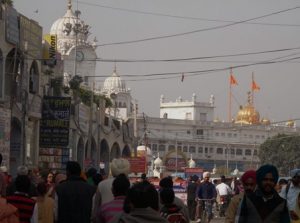 ICLEI South Asia assisted the World Bank in conducting a study for developing an "Environmental Management Action Plan for Urban Transformation in Service Delivery in Amritsar and Ludhiana." This project was part of a larger programme of The World Bank and Government of Punjab (GoP) aiming at identifying opportunities for Innovative Transformation in Urban Services delivery, to be achieved through improved urban management, strengthened financial and institutional systems.
Amritsar and Ludhiana, the two largest metropolitan cities in the state of Punjab, are disproportionately expanding and facing huge deficiencies in terms of civic infrastructure services. Amritsar city is a huge pilgrimage centre catering to about one lakh tourists daily whereas Ludhiana is a prominent industrial hub. Unplanned and inadequate infrastructure is leading to severe environmental degradation in both the cities.
This study was intended to form basis for GoP to identify issues with the existing urban services, local environment and potential for improvement in future. The project has been developed based on secondary data collected from cities, interactions with the stakeholders and on-ground assessments. The Environment Management Action Plan developed for both the cities aims to suggest requisite actions and measures integrating the urban services and environmental resources.
Project Duration:
August, 2014 – December, 2014