2015 'Water for Life' UN-Water Best Practices Award invites nominations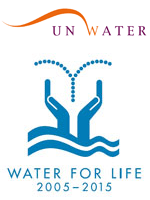 The 'Water for Life' UN-Water Best Practices Award is now accepting nominations for its 5th edition. The award aims to acknowledge and promote efforts to fulfill international commitments made on water and related issues by 2015, by recognizing outstanding best practices that can ensure sustainable long-term management of water resources and help achieve the water and sanitation targets of the Millennium Development Goals (MDG), Agenda 21 and the Johannesburg Plan of Implementation.
This year's award, the theme for which is 'Water and Sustainable Development', will represent the culmination of the 'Water for Life' Decade (2005-2015). The 'Water for Life' Best Practices Award was established by UN-Water and is organized by United Nations Office to Support the International Decade for Action "Water for Life" 2005-2015/UN-Water Decade Programme on Advocacy and Communication (UNW-DPAC) and the UN World Water Assessment Programme (WWAP). It is awarded to projects, initiatives or programmes, rather than individuals or organizations, and is awarded in two categories, one in 'best water management practices' and another one in 'best participatory, communication, awareness-raising and education practices'.
Candidatures must be submitted through an independent nominating organisation. Applications are being accepted till 15 September 2014. Shortlisted candidates and winners will be announced at a special ceremony during official UN celebrations for World Water Day 2014 on 22 March 2015.
Great actions must be recognised so if you know of an initiative that is doing all that it takes to promote awareness of water related issues, get it nominated now! Help them achieve the recognition they deserve and help spread the word a bit more!
For more information, visit:
http://www.un.org/waterforlifedecade/