Earth Hour City Challenge – Helping cities create climate friendly lifestyles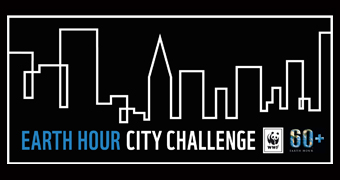 "Earth Hour City Challenge has clearly demonstrated that global level of ambition can be easily raised with ambitious local leaders and actions. Now it is the responsibility of national governments to tap this potential into the new global climate regime," said Gino Van Begin, Secretary General of ICLEI, the focal point of local governments at the UNFCCC.
From 6 countries in 2012-13 to 14 in 2013-14 and 18 in 2014-15, the participants in the Earth Hour City Challenge have been increasing at a commendable pace, making it even more exciting. Cape Town in South Africa was awarded the title of the Global Earth Hour Capital in 2013-14, with Coimbatore having won the India Earth Hour Capital Award for 2013-14. This year again numerous cities will participate and commit to sustainable development. The primary focus of the challenge in 2014-2015 is on city actions that help move investment flows from fossil fuels to renewable and sustainable energy solutions.
In India, the participating cities have increased from 6 in 2012-13 to 11 in 2013-14. This year 14 cities are proposed to take part in Earth Hour City Challenge (EHCC) 2014-15, started in June 2014. The potential cities have already been informed and help has also been extended to them by ICLEI South Asia and WWF India to make them aware of the rules and regulations of the competition and any other things they would have to bear in mind while participating. 13 cities have already filed their nominations to participate while few are yet to confirm. Participating cities and towns will be reporting their commitments, performances and actions on the carbonn® Cities Climate Registry (cCCR), an internationally recognized greenhouse gas emissions reporting platform for local governments, managed by ICLEI.
Earth Hour City Challenge (EHCC) is an initiative designed by WWF to mobilize action and support from cities in the global transition towards a climate friendly, one-planet future, and to stimulate the development and dissemination of best practices for climate mitigation and adaptation. It is run as a recurrent and increasingly global challenge for cities to present ambitious, holistic, inspiring and credible plans for low carbon development and for dramatically increasing the use of sustainable and efficient renewable energy solutions in the next few decades. Cities upload this data on an online platform which is then reviewed by an international jury of experts. Cities having actions strongly promoting renewable energy and innovations across sectors are given preference by the Jury Members.
More than being a challenge, it is a global movement that has encouraged cities to switch to renewable energy sources from fossil fuels and become sustainable and resilient. It has inspired cities to act locally towards sustainable development and at the same time be connected to a global platform to share experience for a climate friendly future.
For more information on ICLEI South Asia's EHCC activities, visit:
http://southasia.iclei.org/our-goals/low-carbon-city/earth-hour-city-challenge/