3R concept, plastic bag free areas and zero waste wards for SUNYA cities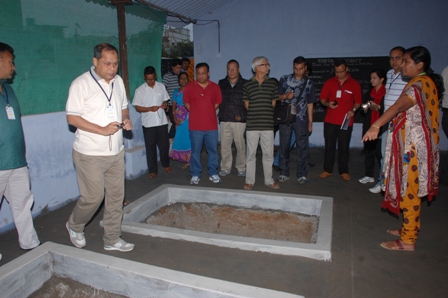 Reviewing the activities of the past year and planning for the current one was the focus of the fourth partner meeting of SUNYA-Towards Zero Waste in South Asia, organised by Coimbatore City Municipal Corporation (CCMC) and ICLEI South Asia from 18-20 February 2014 in Coimbatore, India. The meeting, witnessed the participation of a plethora of esteemed guests like the Mayor of Coimbatore, Shri S.M. Velusamy; the Commissioner of Coimbatore, Ms. G. Latha, and high-level representatives from the Municipal Association of Nepal (MuAN), the Delegation of the European Union to India and ICLEI South Asia, together with the project cities.
In addition to national and international delegates, the meeting was an opportunity to invite community representatives from Ward number 23 of Coimbatore Corporation, where a SUNYA pilot project demonstration is in progress and to felicitate them for their active role in implementing the zero waste model advocated by the project. The sanitation department workers of CCMC (Coimbatore City Municipal Corporation) were also given a chance to share their experiences on implementing door to door segregation initiatives in Ward 23 and their involvement in ensuring recycling of all recyclable material collected from this ward, with support from local NGOs and other businesses.
Short presentations followed on the progress of activities in all seven implementing partner cities. Following are the highlights of the most recent SUNYA's activities:
Hetauda Municipality, Nepal, has chosen Ward number 2 to be transformed into a 'zero waste ward', with 1965 households focusing on segregation of organic, recyclable and hazardous/chemical wastes using the green, blue and red channels (separate containers) for source segregation.
Tansen in Nepal has been distributing buckets and compost bins to the selected households for waste management. It has already declared itself a 'plastic bag free area'.
North Dhaka, Bangladesh, is focusing on introducing 3R principles in the Banani kitchen market in its pilot project.
Phuentsholing, Bhutan, has chosen the College of Science and Technology (CST) as its pilot area and has conducted a number of activities such as orientation for environment clubs, placement of bins for segregated waste collection and construction of compost sheds for decentralised composting; mass campaigns were also conducted to spread awareness on the 3R (Re-use, Reduce, Re-cycle) concept.
Shimla, India, is introducing systems to ensure source segregation of waste and community level composting in one locality of the city, where collection and disposal into the mainstream disposal facility is difficult because of the topography.
Coimbatore, India, has adopted the 'carrot and stick' approach to ensure 100% collection of segregated waste from this ward and ensuring appropriate processing through recycling and community based composting. CCMC has been felicitating households actively engaged in waste segregation and street maintenance and is now in the process of publicly identifying households which are not complying with household level segregation requirements, by affixing notices on their properties and refusing collection of unsegregated waste. Penal provisions are also being contemplated, if required, at a later stage.
Matale, Sri Lanka is propagating and introducing 3R practices in all schools and educational institutions in the city.
The work plans for the current year were also discussed in detail by cities in separate working groups, aided by the European technical experts (non-state actors from Europe – VVSG, ARGE and the sub-contractor Aiforia). The participants undertook a field visit of ward number 23 on the last day of the meeting, where they observed first-hand the waste segregation methodology implemented by the city. Interested participants also visited the Integrated Solid waste Management Facility in Coimbatore, where windrow composting, production of Refuse Derived Fuel and disposal of inerts and rejects in a scientific, sanitary solid waste landfill facility are being carried out.
Ms. Sarojini Kaul from the Delegation of the European Union to India, commended the efforts taken by Coimbatore city to institutionalise the pilot initiative and also to promote decentralised waste management solutions like the biomethanation facility currently implemented in the "Amma" canteen.
For further information on the SUNYA project, visit:
To know more about the South Asian activities of the project, visit:
http://southasia.iclei.org/our-goals/resource-efficient-city/sunya-towards-zero-waste-in-south-asia/