Advancing towards building the capacity of Tamil Nadu cities at "Sustainable Cities through Transport"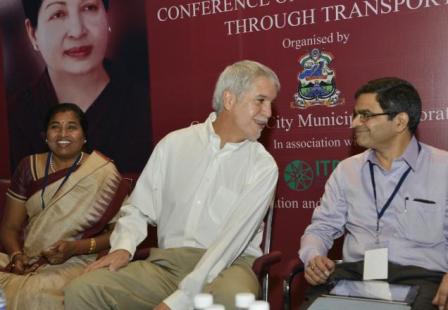 A two day conference on 'Sustainable Cities through Transport' was organized by the Commissionerate of Municipal Administration, in association with the Institute for Transport Development and Policy (ITDP) in Coimbatore in November 2013. The conference was a step towards the larger goal of building the capacity of Tamil Nadu cities to understand and prepare budgets for sustainable transport measures in their cities. Enrique Penalosa (in the picture), former mayor of Bogota, Colombia was the chief guest at the workshop to share his experiences of bringing in more focus on non-motorized transport, public spaces and public transport in his city.
ICLEI South Asia has supported this process through a Shakti Foundation supported initiative to promote sustainable urban transport in Tamil Nadu. Along with a larger team of experts, ICLEI South Asia conducted assessment visits to five cities in the state to collect information and conduct frequency occupancy surveys, thus building the base scenario to understand gaps and requirements of transport solutions in these cities. A one day workshop was held by ITDP where engineers from five cities namely Coimbatore, Madurai, Trichy, Salem and Tiruppur worked towards preparation of the budget for urban transport solutions applicable in their respective cities. The exercise will be concluded with the presentation to the Government of Tamil Nadu of the budget proposals, to receive advice for further implementation.
For further information, click here.