Surat among the first 33 Rockefeller Foundation's Resilient Cities in the world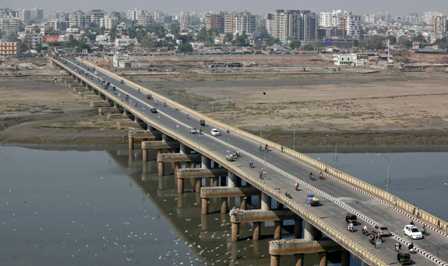 ICLEI member Surat, India, has been announced as one of the first set of 33 cities for the 100 Resilient Cities Network, a Rockefeller Foundation's initiative. The only city from South Asia to have made it to the first batch, Surat is one of the 21 ICLEI members to have received support from The Rockefeller Foundation for their urban resilience work. With more than 1,000 registrations and nearly 400 formal applications from cities around the world, each city was asked to present a clear and compelling description of how they are approaching and planning for resilience to decrease vulnerabilities, and after careful review of the applications, a panel of esteemed judges, including former presidents Bill Clinton and Olosegun Obasanjo, recommended the first set of 33 cities for the 100 Resilient Cities Network.
Surat City, one of the fastest growing cities in the world, is experiencing rapid industrialization and migration. It's also one of the world's most climate change–effected cities, according to the World Bank Sustainable Development Network. Its most pressing urban resilience priorities are building community and social resilience capacity for responding to floods, preventing vector-born diseases, and improving nutrition, water management and the electric grid. The city has also taken a step forward to become India's first 'eco city', on the lines of Singapore.
Surat Municipal Corporation has set a target of reducing its carbon emission from 3.71 tonne per capita by 35% in three years. ICLEI South Asia, through its myriad projects and initiatives, works towards helping more and more cities to tread the path that Surat and many other sustainable and eco-friendly cities have been walking upon, with the hope that this year it was just one, next year it might be much more!
To know more about The Rockefeller Foundation's first 33 Resilient Cities, click here.