Aiming towards creating a climate friendly future for Pune at the Green Energy Fair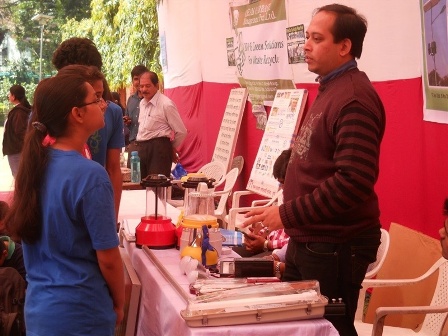 More than 500 people visited the Green Energy Fair, organised in Pune city on 4 March 2015, with support from Pune Municipal Corporation and WWF – India, as part of the Earth Hour City Challenge (EHCC) project. The fair, wherein essential information on various applications of renewable energy was shared with the citizens of Pune city, was inaugurated by the additional commissioner, Pune Municipal Corporation, Mr. Rajendra Jagtaap followed by a brief address by Mr. T.S. Panwar, WWF – India and Mr. Mangesh Dighe, Executive Engineer, Pune Municipal Corporation.
The aim of this program was to enhance stakeholder awareness regarding the city's actions towards low carbon development, energy efficiency and promotion of renewable energy. The event has also encouraged interaction of different stakeholders in the city including school students towards creating an environment and climate friendly future for the city. The event on its side-lines also featured a drawing competition amongst school students.
More than 90 students from different schools in Pune had participated in the competition and were asked to share their ideas and views through drawing and painting on the theme of 'Dream city'. The competition saw some very interesting and creative entries by students. The winners of the competition were awarded by Pune Municipal Corporation.
Six exhibitors also participated in the fair where various renewable energy models like solar water heater, solar roof top, solar lanterns and other renewable energy devices of domestic use, models on waste to energy, energy efficiency etc. had been exhibited. Information on the usage, cost, availability, maintenance etc. of these devices has also been shared with the visitors.
Pune is one of the finalist cities along with Thane and Rajkot for the Earth Hour City Challenge and has displayed remarkable commitment towards environment related issues by taking bold and innovative actions in this direction. Pune's determination towards low carbon and sustainable initiatives such as its Eco-Housing program for green buildings and traffic management solutions such as BRTs have all contributed to the city's position as a finalist city. Its Comprehensive Mobility Plan (CMP) is another major initiative that evaluates non-motorised as well as mass transport options in Pune. Pune also has a dedicated Energy Saving Cell which has been established to guide energy projects. The thrust on energy efficient street lighting and effective waste management have also been few of the other significant actions demonstrated by the city.
Pune is also one of the running contenders for the We Love Cities Campaign where people from across the globe are voting for their favourite city from among the EHCC finalists. People can simply visit www.welovecities.org/pune to cast their vote.
Click here for more information on the Earth Hour City Challenge.