Risk award to support slum dwellers in Pune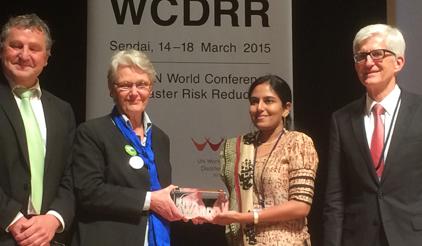 Activities for risk reduction must integrate the people at risk and make use of their traditional coping techniques and knowledge. All the key drivers of risk are present in the Indian city of Pune where 25,000 people living in ten slums will benefit from a project by the All India Institute of Local Self-Government (AIILSG) which has won the 2015 Risk Award and a grant of €100,000 at the Third UN World Conference on Disaster Risk Reduction. The project reduces disaster risks faced especially by women and children in a slum population.
Ms. Shweta Gupta, Senior Project Coordinator of the winning All India Institute of Local Self-Government (AIILSG), said, "We are honored to accept this year's Risk Award which will help develop a cadre of community volunteers as master trainers in disaster risk management. We will place particular emphasis on mobilizing women and developing child-friendly information, education and communication tools."
Pune city in Maharastra State of India is among the most multi-hazard-prone districts in the country. For the poorest of the poor the risks increase multi-folds as they have hardly any means and resources for disaster risk reduction or disaster preparedness. Approximately 21% of Pune's population (690,000 people) resides in the city's 477 slums in uninhabitable conditions. Many of those slums are densely populated, lack basic services and infrastructure and, moreover, are located on hills as well as in high flood zones. Consequently, people are highly vulnerable to natural disasters (landslides, floods, heavy rains, earthquakes or cyclones) and man-made disasters (like fires and collapsing buildings). Women and children are the weakest and most heavily affected.
With its project "Community self assessment and planning with women's participation for disaster risk" the AIILSG from India aims to reduce the disaster risk of the urban vulnerable communities in slums with a special focus on children and women. Read more.
The head of the UN Office for Disaster Risk Reduction (UNISDR), Ms. Margareta Wahlström, said, "The All India Institute of Local Self-Government is a worthy winner of this Award and is tackling one of the most pressing issues of our times, rapid urbanization and its consequences for impoverished people living in informal settlements. I am happy to see such a strong focus on women and children whose needs are often overlooked in disaster risk management."
The RISK Award has been set up in 2012 to help improve risk reduction and disaster management by providing financial support to projects dedicated to these topics. This year, 145 applications from 60 countries were submitted. They included 19 applications from science and academia, 19 from governmental representatives and public authorities and 99 from non-profit organisations and/or NGOs.
Click here for more information on the Risk Award.