An ardent welcome to the marble city of India – Kishangarh, Rajasthan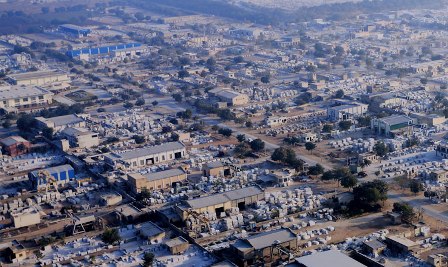 Known as the marble city of India, Kishangarh is located in the Ajmer District of Rajasthan and is famous for its artistic paintings, religious places and marble processing industries. The city is also known for its famous Bani Thani paintings, which have also been engraved on one of the Indian Governments' postal stamps. The city is strategically located in close proximity to Ajmer and Jaipur and is hence a prominent commercial centre.
"The remarkable work being done by ICLEI South Asia in Kishangarh city will help the city work towards solving the problem with sustainability of water resources by identifying measures that can be taken towards controlling pollution in traditional sources and developing awareness for utilization of each and every water source", says Mr. Vipin Jain, Executive Engineer, Public Health & Engineering Dept. (PHED)
Kishangarh is a part of the European Commission funded project on Adopting Integrated Urban Water Management in Indian Cities (AdoptIUWM), through which the city will adopt principles and practices of Integrated Urban Water Management to develop an IUWM based Action Plan for the city. In the planning and implementation of 2 pilot projects; the city will also test the Indian IUWM toolkit which has been developed with the aim of guiding Indian cities towards integrating the still often isolated sectors of water supply, sewerage and storm water drainage.
The city's main challenges are pollution of water resources due to waste from marble processing industry, water scarcity and pollution of water resources due to discharge of untreated wastewater. The AdoptIUWM Project will help Kishangarh in solving these issues and become a more sustainable city.