Spotlight on Nashik, India – An interview with Mayor Yatin Wagh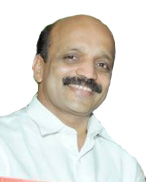 "ICLEI South Asia has been working intensively with us. With their support, we at Nashik Municipal Corporation have started developing our own Sustainable Urban Habitat Action Plan (SUHAP) and are also looking into the benefits of an urban nexus approach for Nashik, through the identification of inter linkages between the water, energy and food sectors. We ardently hope that through the ICLEI – Nashik relationship, we will help Nashik become a sustainable and green city and an example for many!"
What would you describe as Nashik's main achievements in the field of sustainability?
In view of the current global warming and the loss of natural imbalance, it becomes the responsibility of all citizens to contribute their bit towards the environment. Nashik Municipal Corporation (NMC) is taking firm initiatives towards improving the city's sustainability such as tree plantation, Plastic – Free Nashik, Godavari cleaning scheme, Green Kumbh (Kumbh is a huge religious festival/market, held once in 14 years. The Green Kumbh is an initiative to reduce its impacts on the environment and climate), Godavari Warden etc. The Godavari River has a major role in giving Nashik its identity as the 'City of Pilgrimage' and is an essential part of our life; this is why we are taking concrete steps towards making the river pollution free. NMC is also setting up 380 MLD capacity Sewerage Treatment Plants in the city, out of which 280 MLD STPs are already operational.
As a part of Green Kumbh, the Plastic Free Nashik project is also being launched and will run from Aug 2014 to July 2016. NMC has made arrangement for in the current budget to make this project a mass movement and a grand success. To carry out all this, the city of Nashik is heavily relying on our citizens' active participation.
How has ICLEI South Asia's support helped you achieve these goals?
ICLEI is definitely playing a lead in the sustainable development of Nashik through various projects. They have helped create a sense of social responsibility towards the environment amongst the general public. Our city has also gained tremendous exposure by being able to be a part of the various workshops and events held by ICLEI and their partners, which have further helped build capacity of the officials and provided other technical support and ideas.