APFSD 2016: Delegates from Asia-Pacific meet to discuss regional priorities for implementation of SDGs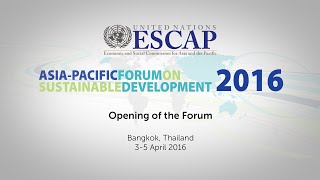 The third season of the Asia-Pacific Forum on Sustainable Development (APFSD 2016), organised by the Economic and Social Commission for Asia and the Pacific, was held from 3 to 5 April 2016, at the United Nations Conference Centre, in Bangkok, Thailand. A representative from ICLEI South Asia participated in the event and presented ICLEI's stand.
"The SDGs will pave the way for a fully transformative agenda if they are considered as the floor, not the ceiling, and if the ambitions of today are mainstreamed as the norms of tomorrow in every community and jurisdiction," said Monalisa Sen, senior manager at ICLEI, as she read the statement issued by ICLEI. "At ICLEI we believe in nurturing mutually beneficial and reinforcing partnerships so that the impacts are exponential. We therefore support the forging of partnerships between local governments, local communities, financial institutions, research institutes, civil society organisations, and the private sector to develop and implement solutions that are inclusive, equitable, and which create lasting impacts for sustainable and resilient development in support of the SDG Goal 11," she added.
Read full statement

APFSD 2016 focused on regional priorities for the implementation of the 2030 Agenda for Sustainable Development in Asia and the Pacific. The Forum was attended by more than 420 participants, including representatives of governments, civil society organizations, United Nations agencies and other international organisations.
The meeting was attended by representatives of ESCAP members – Afghanistan, Armenia, Australia, Azerbaijan, Bangladesh, Bhutan, Cambodia, China, Democratic People's Republic of Korea, Fiji, India, Indonesia, Iran, Japan, Kazakhstan, Kyrgyzstan, Lao People's Democratic Republic, Malaysia, Maldives, Mongolia, Myanmar, Nepal, Pakistan, Philippines, Republic of Korea, Russian Federation, Samoa, Sri Lanka, Tajikistan, Thailand, Timor-Leste, Tonga, Tuvalu, United States of America, Uzbekistan and Vietnam.
At the forum, a special event on global partnership on sustainable development data was was also organized, along with side events on building knowledge partnerships, achieving gender equality and women's empowerment and engaging civil societies were also held during the forum.
The Forum concluded with the formal presentation of the draft report to the member countries.