Coimbatore sets a Guinness World Record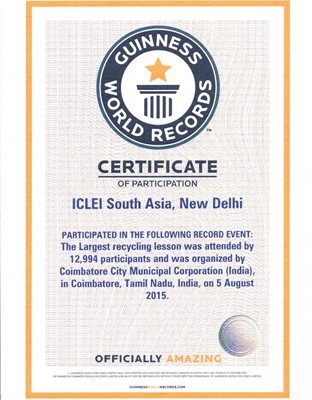 ICLEI South Asia has been recognized for its contribution and participation in the "largest recycling lesson" which was attended by 12,994 participants and was organized by Coimbatore Municipal Corporation.
The city flourishingly accomplished the title in Guinness World Records, with the objective to create a better understanding about community involvement in source segregation, litter collection, waste handling and disposal and was able to achieve massive outcomes by conducting awareness campaigns all over the city about source segregation, along with all the stakeholders. The campaign resulted considerable achievement in source segregation.
World's largest recycling lesson held in Coimbatore, India & attended by 12994 participants https://t.co/RpPByFrWru pic.twitter.com/Pu1EdUX895

— ICLEI South Asia (@ICLEISouthAsia) March 21, 2016
The event was organised with the support of district collector, School Education Department, Pollution Control Board and other NGOs, in collaboration with ICLEI South Asia as a facilitator. The supporters made great efforts to prepare for an event at this scale. Their activities included layout preparation, volunteer participation and lesson plans.
With the vision to make Coimbatore city a first in the world to achieve the Guinness World Record on "Largest Recycling Lesson", Mayor of the Coimbatore, Mr. P Rajkumar said that the event was organised as part of Tamil Nadu Chief Minister's vision 2020 to make the city garbage free, more so when garbage accumulation was posing a big challenge across the country. He also added that the participants should take the recycling and source segregation lesson to their family members and neighbours. If a house is clean, the street will be clean. If both are clean, the city will be clean, he asserted.