Asia Clean Energy Forum 2017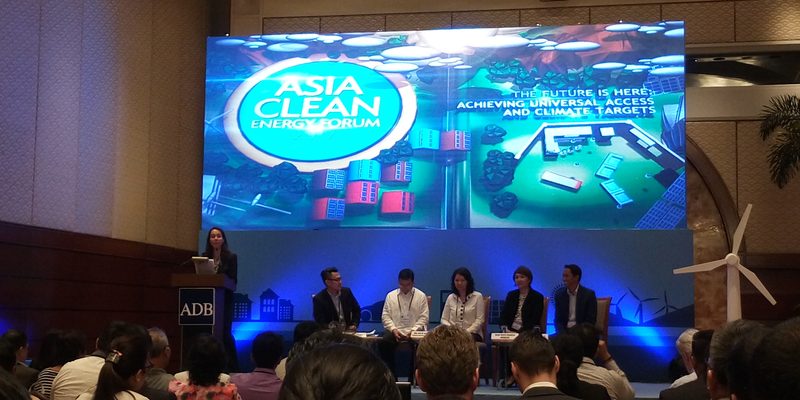 The 12th Asia Clean Energy Forum (ACEF), co-hosted by the Asian Development Bank (ADB), United States Agency for International Development (USAID) and the Korea Energy Agency (KEA) was held in Manila, Philippines, from the 5th to 8th June 2017. The forum witnessed interactions and discussions among more than 1,500 professionals from across the technology, finance, and policy communities working in clean energy.
There were 21 deep dive workshops, three plenary sessions and 20 thematic sessions based on four core areas of innovation in energy efficiency, innovation in renewable energy, increasing energy access, and charting the future of clean energy in Asia.
The Asia LEDS Partnership (ALP) along with USAID co-organized a deep dive Workshop on 'Enabling Private Sector Clean Energy Investment in Southeast and South Asia: Recommendations from Corporations and Governments' on the 5th of June, 2017. 160 participants from the public and private sector, working in the area of clean energy, attended the session.
Discussions revolved around how large corporations are now taking initiatives in clean energy development and putting forward their expectations and requirements to the governments, and how government can support these companies to invest and accelerate on the path of clean energy development. About 93 companies are participating in RE100 and committing to shift to 100% renewable energy. Private sector companies in the Vietnam Business Forum, developed a "Made in Vietnam Energy Plan" recommending key policy and regulatory changes needed to enable investments.
There were discussions around the status and investment opportunities existing in clean energy markets in South and Southeast Asian Countries. BNEF estimates a gap of 5 trillion USD in zero-carbon technologies within the Asian market, which provides significant opportunities for private sector investments.
To improve the environment for private sector investments in the clean energy market, it is important for governments to strengthen the regulatory framework for private sector investments. The private sector is also pressing for the Governments to strengthen the finance ecosystem by strengthening the domestic banks, and to increase clean energy lending along with enhancing government capacity to support RE markets and increasing public-private sector collaboration.
More information about the workshop is available here.
Asia LEDS Partnership (ALP) through its Remote Expert Assistance on LEDS (REAL) aims at supporting South and Southeast Asian Governments towards designing policies, regulatory frameworks, policy incentives, and potential business models for strengthening the clean energy market for private sector along with advancing their efforts towards achieving their NDCs. ALP also intends to develop knowledge papers on successful cases of policy implementation or finance mechanisms existing in the region to promote knowledge sharing. ALP plans on developing guidance material on the various tools and methodologies useful for the South and Southeast Asian governments,discussed during the four days and uploading on the ALP website for reference.