Asian Infrastructure Investment Bank organises a Workshop on Engagement with CSOs and NGOs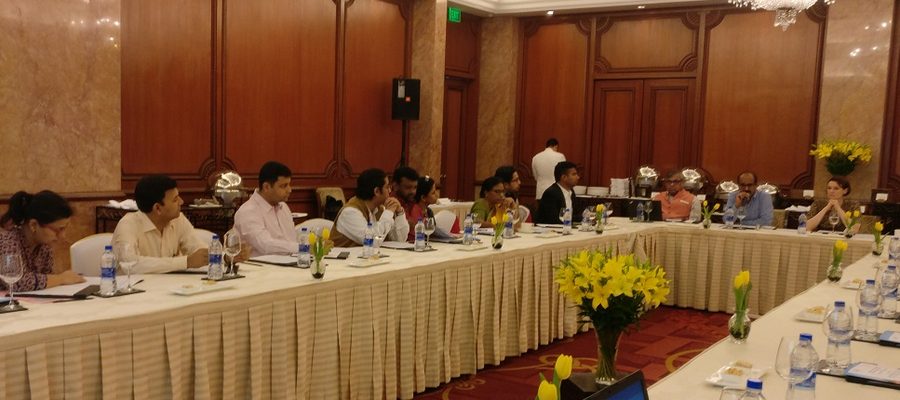 A stakeholder engagement meeting was organised by Asian Infrastructure Investment Bank (AIIB) with cooperation from ICLEI South Asia on the 16th and 17th of May, 2018 in New Delhi and Mumbai.
India is a founding member and the 2nd largest shareholder in AIIB, and also the host for its upcoming Annual Governors' Meeting (AGM) to be held in Mumbai on the 25th and 26th of June, 2018. Therefore, this workshop was convened to reach out to the CSOs and NGOs based in New Delhi.
AIIB is investing in to six projects in India with a total amount of up to USD 1.214 billion in funding which includes following projects; Madhya Pradesh Rural Connectivity Project (USD 140 Million); Bangalore Metro Rail Project – Line 6 (USD 335 Million); Gujarat Rural Road Project (USD 329 Million); Andhra Pradesh 24×7 – Power for All (USD 160 Million); Transmission System Strengthening Project (USD 100 Million); Morgan Stanley India Infrastructure Fund (up to USD 150 Million).
The goal of the workshop was to listen and understand their views and concerns on the bank's overall development as well as business operations in India.
The workshop included a presentation on AIIB's work and progress in India by Ms. Laurel Ostfield, Head of Communication and Development Department, Asian Infrastructure Investment Bank, Beijing, China; and a briefing on AIIB's 2018 Annual Governors' Meeting by Mr. Somnath Basu, Senior Social Development Specialist, Strategy, Policy and Budget Department, AIIB. This was followed by recommendations and discussions with the CSOs/NGOs.
Topics like project cycle management, environment and social impacts, rehabilitation & resettlement, gender assessment, grievance redressal mechanism, and public consultation & disclosure were discussed with the stakeholders at the event.
The participants were appraised with the process and work of AIIB in India. Also, the outreach was taken as a warm-up activity to encourage the CSOs/NGOs to actively participate in the coming AGM.