Bangladesh Municipality Initiates Free Delivery of Groceries in Eco-Friendly Vehicles during Lockdown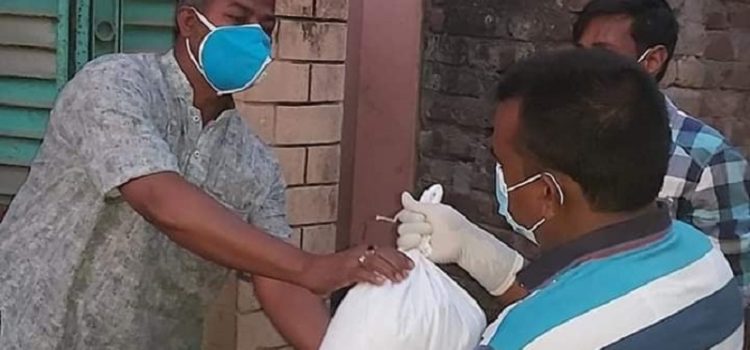 ollowing the imposition of a national lockdown in Bangladesh on March 24, to combat the spread of the novel coronavirus, the Singra municipality has taken several initiatives for the people's benefit. Leaflets are being used to spread awareness on the importance of staying at home, washing hands frequently and wearing masks. The municipality is also using the e-rickshaws launched under the Transformative Urban Mobility Initiative (TUMI) to deliver groceries and other essential items to the people. Hon'ble Mayor of Singra Md. Zannatul Ferdous spoke to ICLEI South Asia about the various initiatives being implemented in the municipality during the lockdown.
What are the measures being taken in your municipality to deal with the COVID-19 pandemic?
We understand that staying at home and avoiding public gatherings are the best ways of protecting oneself and curbing the spread of the coronavirus. We are following all the guidelines provided by the World Health Organisation (WHO) and the Ministry of Health under the government of Bangladesh. In our municipality, we have requested the residents to stay at home until further notice. We are raising public awareness through leaflets and public address systems. The municipal staff is not working at the moment. However, there is a designated team working during this crisis, and its members are staying at the municipal guest house, away from their families.
We had recently launched some e-rickshaws as public transport in our municipality; they were operating under the TUMI project. We are now using these vehicles to deliver groceries to low and middle-income families so that they can stay safe at home.
Tell us more about the TUMI vehicle initiative and how it is helping the people under lockdown.
When the pandemic broke out in our country, I and Member of Parliament and State Minister for Information and Communication Technology Mr. Zunaid Ahmed Palak came up with the idea of using our TUMI project vehicles to deliver daily consumables to the people. We thought it could be a great support and the best option if we wanted the people to stay at home. Additionally, if we do not operate these vehicles during the lockdown, it will reduce the efficiency of their batteries.
Under the initiative, we have launched two helpline numbers – +88 01707001122 and +88 01851002222 – that will accept delivery requests from 8 am to 5 pm every day. Citizens can order essentials during these hours and our delivery service is free of cost.
One of the numbers is specially designated for those who are dependent on daily wages and cannot afford to purchase these items during the lockdown. I personally receive these calls and try to deliver the products by evening as a relief measure. This is my personal contribution, along with Mr. Palak's help.
How many vehicles are being used?
All 12 vehicles are being used for this service: 10 e-rickshaws for product delivery and two e-ambulances for transporting patients and doctors in case of emergency.
What are the products being distributed by the e-rickshaws?
Daily consumables including vegetables, dried food, fish and meat, besides beverages and medicines are delivered. We have asked three shops in our municipal market to supply these products.
What is the public reaction to the service? Do they want more products to be distributed likewise?
The people have reacted positively to the service. They have started ordering everything as per their daily needs. We received calls from the capital city Dhaka and Rangpur district also, but unfortunately, we could not deliver there.
How has the crisis impacted Singra municipality in terms of work and productivity?
We have not been able to measure the loss in productivity yet, as we are trying to provide emergency support now. But the people who are dependent on daily wages are in big trouble. We are trying to identify and help them.
Are you planning more initiatives, keeping issues such as sustainability and the environment in mind?
Though not linked to any environment or sustainability issue, we are planning to continue this product delivery support even after the crisis ends. However, we will start charging for delivery to add to the municipal revenue.