Bhagalpur city from Bihar joins ICLEI's network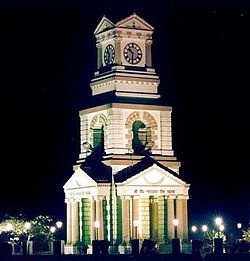 Bhagalpur, popularly known as silk city situated on the southern bank of the Ganges in the Indian state of Bihar, has successfully become an ICLEI member.
The third largest city in Bihar and the largest city in eastern Bihar, is also one of the major educational, commercial and political centres of eastern India. The city covers an area of 110 square kilometre with 410,210 population.
The City has recently been shortlisted by the Ministry of Urban Development, Government of India, to be developed as a Smart City under its flagship "Smart City Mission" and to be transformed through Atal Mission for Rejuvenation and Urban Transformation (AMRUT) scheme.
Honourable Mayor of Bhagalpur City, Deepak Bhuvania, on the subscription of ICLEI's membership stated, "It is indeed an important moment for the City of Bhagalpur to be part of World's leading network of cities and local governments. The kind of work that ICLEI commands is timely and challenging and we look forward to benefit from the ICLEI's strength on our pursuit of urban transformation and delivering world class services to the citizens."