Habitat III: ICLEI's response to Zero Draft of New Urban Agenda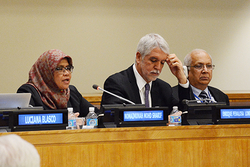 On 15 May, local and regional governments and networks from around the world convened at the first session of the Second World Assembly of Local and Regional Governments in New York City to provide input into the United Nations Habitat III Conference on Housing and Sustainable Urban Development.
This meeting was the first in the three-part Second World Assembly series organised by the Global Taskforce of Local and Regional Governments. The World Assembly is the mechanism through which the local and regional government constituency will participate in the Habitat III process and shape the New Urban Agenda to guide global urban development over the coming decades.
Gino Van Begin, Secretary General of ICLEI – Local Governments for Sustainability, and Maimunah binti Mohd Sharif, Municipal President of the Municipal Council of Seberang Perai, Malaysia and Member of the ICLEI Global Executive Committee, ICLEI Southeast Asia Region delivered interventions at the Second World Assembly.
Through their remarks, Van Begin and Sharif welcomed the Zero Draft of the New Urban Agenda, noting that its ambitious agenda needs further strengthening through implementation mechanisms that will effectively transform the global urban agenda.
The Zero Draft is particularly strong in that it:
Establishes an inclusive and innovative Habitat III consultation process;
Introduces new and innovative concepts around urban development, including the right-to-the-city and the need for a territorial approach and increased metropolitan governance; and
Includes a number of stakeholder proposals, such as reserving 20 percent of national budgets to local governments, the adoption of United Nations Decade for Sustainable Urbanization and the establishment of an International Multi-Stakeholder Panel on Sustainable Urbanization.
ICLEI also called for a stronger Zero Draft that:
Ensures Sustainable Development Goal (SDG) 11 on cities as well as urban dimensions of the other SDGs are strongly anchored in the New Urban Agenda;
Outlines national commitments and specifies concrete mechanisms for implementing the New Urban Agenda; and
Empowers local and regional governments with sufficient resources and capacity to foster a multilevel, holistic and integrated approach to sustainability.
Read More on ICLEI Global: http://www.iclei.org/details/article/local-and-regional-governments-convene-at-the-second-world-assembly-toward-habitat-iii.html