CapaCITIES Initiatives Help Cities Scale Up as Project Concludes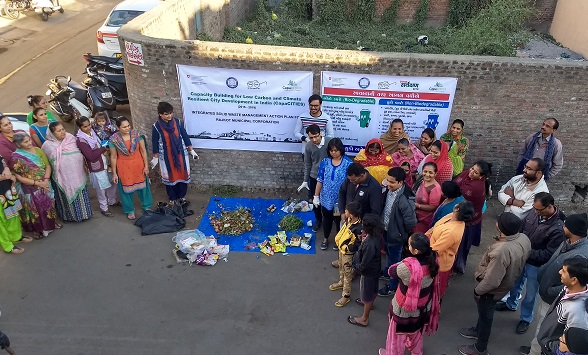 The first phase of the CapaCITIES project, supported by the Swiss Agency for Development and Cooperation (SDC), is drawing to an end, after three years of extensive work, assisting the cities of Coimbatore, Rajkot, Siliguri, and Udaipur to plan and implement several interesting mitigation and adaptation measures.
The good practices and successful initiatives introduced through pilot quick win interventions in the cities are now being replicated and scaled up in other areas of the cities by the local authorities, based on learnings from the project. Water and wastewater, solid waste management, transport, biodiversity and energy were some of the sectors addressed by the project.
With little or no solid waste processing, Udaipur, Coimbatore and Siliguri embarked on a journey to move towards zero waste – SUNYA. Solid waste management staff in the city were trained on achieving 100% segregation.
Each city was supported in undertaking extensive IEC campaigns in two wards, where in close 70- 90% door-step segregation is achieved. Waste processing plants for the biodegradable fraction were designed and are being implemented. Two biomethanation facilities in Coimbatore (1.5 TPD) and Udaipur (2 TPD) will be commissioned by the end of this month and the organic waste converter in Siliguri (1 TPD) is being commissioned.
The SUNYA model framework was initially scaled up to 20 more wards under the guidance of ICLEI South Asia in 2017. This helped improve Udaipur's rank in the 2018 Swachh Survekshan. Encouraged by the success, Udaipur Municipal Corporation (UMC) has scaled up this pilot project to all 55 wards. A City-level Information Education Communication (IEC) programme is underway; Womens' Self-Help Groups, with support from the National Urban Livelihoods Mission (NULM), are involved in this programme to ensure sustained action on-ground.
The 2-TPD biomethanation plant (Bi-phasic process), established in the fire station compound, Mardi (ward 31 of UMC) is expected to produce about 165 units of electricity per day from the biodegradable waste collected by the UMC. The electricity generated would be used at the fire station for daily operations such as water pumping and lighting and also to power the adjacent residential quarters. The plant could reduce GHG emissions from the solid waste sector by 1,400 tCO2e (amounting to 1.5% of the total annual GHG emissions from Udaipur's SWM sector).
In Coimbatore, the SUNYA project is being implemented in wards 22 and 24 with door-to-door collection of segregated waste as well as removal of community bins in a phased manner to eliminate mixed waste disposal from these wards. A highly successful IEC campaign in the city was championed by local women's groups and brought about extensive community participation in the whole project.
The 1.5-TPD bio-methanation plant (Horizontal Continuously Stirred Reactor) is being established at the CCMC workshop in ward 22 to convert biodegradable waste into biogas to generate electricity and recycle valuable nutrients in the form of compost.
The plant is expected to generate about 120-150 cubic meter of biogas with a methane content of about 60%. The biogas will be used to power an electric generator that is expected to produce about 200 units of electricity, which will be fed into the TNEB electricity grid. This will result in an annual cost offset of Rs 3.5 lakhs at the prevailing rate of Rs 6.35/ unit. Apart from this direct cost saving, CCMC will also save about INR 10 lakh per annum on fuel costs for transporting waste to the dump site.
In Rajkot, there was special focus on water and energy nexus through the CapaCITIES project. A 145kWp grid-connected solar PV system has been installed at the Aji Water Treatment Plant in the city. Following this successful pilot implementation, the Rajkot Municipal Corporation (RMC) decided to replicate the project in 46 other water and sewage treatment plants in the city. These are operated and maintained by the RMC, and consume ~45million kWh electricity per year.
A bankable project based on the RESCo model is being developed with an aim of installing solar PV systems in two water treatment plants (Ribda and Raiyadhar), two sewage treatment plants (Gavridhar and Madhapar) and at the Nakravadi landfill site.
In Rajkot city, the project conducted an assessment to study the ground water quality and sufficiency; potential for ground water recharge was explored. In five flood-prone areas (Astron Chowk, Race Course Park, Mahatma Gandhi Museum, Raval Nagar, R K Nagar); ground water recharge facilities were designed and constructed to reduce local flooding and enhance aquifer recharge. These groundwater recharge structures are within RMC-owned public parks and museums, which not only ensures the safety of the system, but has also resulted in creating community awareness on the important issue of water conservation.
In Siliguri, work is being planned around traffic congestion. The experts, from urban lab, presented the draft report on the traffic decongestion study to the Hon'ble Mayor, Commissioner and other officials of the Siliguri Municipal Corporation. The report was also presented to the CEO of Siliguri Jalpaiguri Development Authority.
The project team is now working on the recommendations based on the study that they have conducted and interactions with the officials.
In Udaipur, a pilot project was implemented to find out technical, financial, social and environmental feasibility of E-rickshaws.
After the successful completion of this pilot, registered number of E-rickshaws have increased from 45 to 100 (approx figure RTO) in the city.
The UMC is now planning to scale up E-rickshaws in the city to reduce direct pollution as well as GHG emissions. The UMC has plans to run these E-rickshaws in city-based university campus to reduce its carbon footprint.