Urban-LEDS II Builds on Phase 1 Synergies, Successes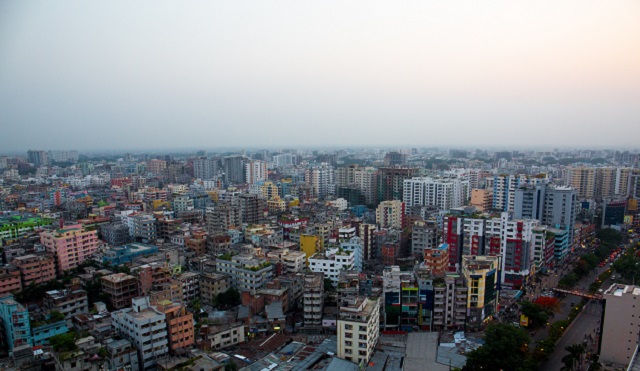 The Urban-LEDS phase II project is expanding work on low emission planning to Colombia, Bangladesh, Lao PDR and Rwanda. Funded by the European Commission, the project is being implemented by the United Nations Human Settlements Programme (UN-Habitat) and ICLEI – Local Governments for Sustainability (ICLEI).
This project, which is being implemented in the 2017-21 period, takes forward the work of Urban-LEDS I, which was conducted in Brazil, India, Indonesia and South Africa. While Urban-LEDS II focuses on climate resilience that includes both climate change mitigation and adaptation, Urban LEDS I concentrated on mitigation. Comprehensive Urban Low Emission Development Strategies and action plans based on city-based studies were developed under Urban-LEDS I and ICLEI's GreenClimateCities process methodology was used. New dialogues on vertical integration (multi-level governance) with countries active in the United Nations Framework Convention on Climate Change were conducted.
Taking it forward, a National Project Advisory Group (PAG) is being established in each Urban-LEDS II country to support the effective implementation of the project. This is to bring together relevant stakeholders as an expert group that provides practical and strategic advice to the country project team for effective implementation of the project. The aim is to enable climate resilient cities to act and to enhance adaptive capacity to climate change.
FLAGSHIP PROGRAMME
The first PAG meeting was held on 31st of May 2019 in New Delhi, to apprise the members about the global Urban LEDS II programme, and to give them an overview of the project in India. Speaking on Urban-LEDS II, Hitesh Vaidya, India Country Manager, UN-Habitat, who chaired the meeting, said the project had synergies with various ongoing and upcoming government programmes, schemes and missions. He said the outcomes of Urban-LEDS I had resulted in significant outcomes and the second phase would emerge as a flagship programme in India.
The meeting was attended by representatives from UNEP, AFD, GIZ and the Australian Trade and Investment Commission, as well as Swiss Agency for Development and Cooperation, National Institute of Urban Affairs and European Union, besides UN-Habitat and ICLEI South Asia.
Under Urban-LEDS II, GHG inventory and city profiles are being developed and need assessment has been done in four model cities. Projects for Technical Assistance and pilot implementation will be undertaken to address the cities' priority needs. UN-Habitat and ICLEI South Asia are working on preparing country profiles to map institutional and policy landscape and multilevel governance/vertical integration studies.
Urban-LEDS II will support Nagpur and Thane India with action research and technical assistance to develop low emission development strategies that will be integrated into regular city planning. The cities will be helped to prepare climate change mitigation and adaptation actions in the local context. Along with these, pilot projects, data collection, technical workshops and peer-to-peer learning events are also in the pipeline, as part of Urban-LEDS II.
At the PAG meeting, Emani Kumar, Deputy Secretary General and Executive Director, ICLEI SA, pointed out that gradually cities were responding favourably to activities related to climate change. Soumya Chaturvedula, Deputy Director, ICLEI SA, said the goal of Urban-LEDS II was to reduce GHG emissions in cities/towns in emerging economies and least developed countries through integrated climate action, including climate resilience.
The attendees at the meeting pointed out the possible synergies between Urban LED II and the projects being implemented by their own organsiations.
For instance, Vaishali Nandan, Deputy Director, GIZ India, said GIZ was developing an ICT-based flood mapping app for Bhubaneswar and a soon-to-be-ready prototype could be scaled up in Thane under Urban LEDS II.
Clémence Vidal de la Blache, Deputy Director, AFD India, said there was a lot of synergy between AFD's 'City Investments to Innovate, Integrate and Sustain (CITIIS) Challenge' and Urban-LEDS II. The meeting also discussed the challenge of vertical integration in the context of local climate action and reporting.