CDKN at COP24: The Start of a 'Big Conversation' on Communicating Climate Change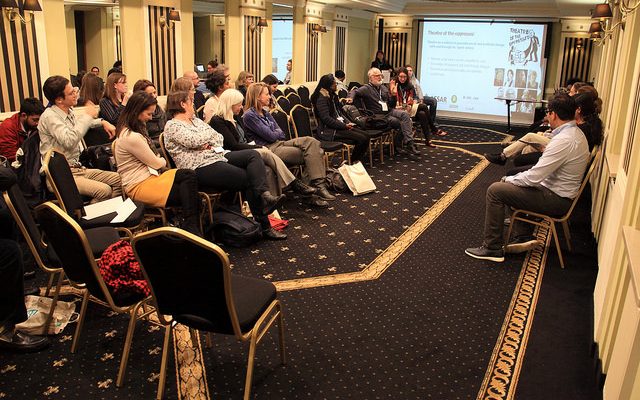 At COP24 in Katowice, Poland in December, the CDKN team shared top tips on communicating for climate action – and helped push the boundaries on audience engagement.
"How do I communicate better with colleagues in my organisation about climate
change and opportunities for climate action?"
"How about communicating with other stakeholder groups, and with the general public?"
"How do I get others to work with me on the climate agenda?"
These are some of the questions that CDKN hears often from technical professionals who are working on climate change.
And they are issues at the heart of the Paris Agreement, which calls on Parties to "cooperate in taking measures… to enhance climate change education, training, public awareness, public participation and public access to information, recognising the importance of these steps with respect to enhancing actions under this Agreement" (Article 12).
In other words, tackling climate change has many technical aspects, but the public has to understand the basic issues and feel inspired to take climate action, if we're to meet the Paris Agreement's ambitious goals.
CDKN kicked off a conversation with journalists and communications professionals, climate change programme managers and government delegates at COP24 in Katowice, Poland about how to communicate and engage with audiences effectively – as a step to catalysing more ambitious action. This is part of an initiative to support a 'big conversation' on climate action in CDKN's focal countries and across developing regions.
Launch of draft communications guide: CDKN launched its draft Communicating climate change – A practitioner's guide at a side event hosted by the Paris Committee on Capacity Building and at CDKN's exhibition stand. We were part of the Capacity Building Hub; you can find our powerpoint presentation on the UNFCCC's website and a video of the session will be posted there in the coming weeks. See photos of CDKN's Shehnaaz Moosa, Mairi Dupar and Simbisai Zhanje in action on the PCCB Capacity Building Facebook page.
CDKN's guide shares top tips on communicating and engaging audiences on different aspects of climate change and is rich with case studies from CDKN's experience in developing countries. Its launch at COP24 marked the beginning of a period of open peer review. We are taking comments and ideas for more case studies. Please write to us before 31 January 2019 at cdkn@southsouthnorth.org with your suggestions.
Using theatrical techniques to explore how gender and social issues affect climate resilience: CDKN was also delighted to participate in Development and Climate Days 2018, an annual event in association with the UNFCCC conferences, where development practitioners gather to share lessons and experiences on building communities' resilience to climate change.
CDKN's Mairi Dupar and colleagues from IDRC and Oxfam role-played community and international development actors in a 'theatre of the oppressed' session. This pedagogic method uses participatory theatre to unpack different social issues. The audience members become 'spect-actors' who can join the performance and change the script. In the Katowice theatre, we used this method to explore how gender and other social relationships affect perceptions of and effective approaches to climate action. Audience members leapt up and volunteered to change the characters' lines – but they quickly found that their interventions led to unintended consequences! This provided rich grounds for debate.
On a different stage, CDKN's Carl Wesselink discussed how to increase financing to small, grassroots adaptation initiatives. Find highlights of these events in this D&C Days video and the reporting on the D&C Days homepage and flickr album.