City of Coimbatore priding itself on a bin-free ward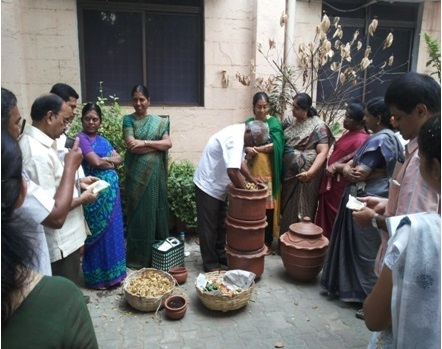 Progressing under the 'SUNYA – Towards zero waste management in South Asia' project, ward no. 23 of R.S. Puram in Coimbatore, India, has now become a bin-free ward, marching towards achieving a zero waste status, through the adoption of several measures, including door to door collection of segregated waste , home composting and management of recyclables. As a result, all 89 garbage bins have been removed within the ward since they are no longer required. People's participation, determination of the sanitary workers and an efficient civic body make ward no. 23 an example for many.
Ward number 23, which had been chosen as the pilot ward to demonstrate project activities, has been actively and steadily progressing towards achieving a zero waste status, through the process of segregating waste at source, encouraging bio composting in individual households and bin composting at the ward level to reduce the waste to be handled at the windrow compost yard. Recyclables are collected from each household by sanitary workers and are transported and stored at the ward office and then sold to the ITC's Wealth out of Waste (WOW) initiative, twice in a week.
These results were achieved thanks to an intensive outreach campaign that included capacity-building for the workers, awareness and community involvement activities, distribution of pamphlets publicizing the concept of zero waste, source segregation of waste, composting, recycling and collection of special wastes, as well as infrastructural changes such as setting up a bio-compost site. A proposal for a bio-methanation plant is also on the anvil, to ensure sustainable processing of organic waste.
Ward number 23 is a perfect example of community engagement and the role this plays in improving a city – from street plays encouraging source segregation of waste and avoiding the use of plastic bags to organising awareness programmes for schools, this ward has seen it all. A major share of the credit also goes to the sanitary workers who have been trained for better understanding source segregation and collection. The newly trained workers make daily door-to-door visits to collect the segregated waste, keep the wet waste in sacks at a common point from where corporation lorries and auto rickshaws carry it away later to Onappalayam where composting is done. Home composting is also encouraged in some houses in this ward. Dry recyclable waste is handed over to ITC WOW, once in three days, bio-medical waste to Technotherm and the hazardous waste is sent to the Vellalore dump yard, where it is temporarily stored for further processing. The workers of ward 23 directly stand to gain financially from recyclables sold to ITC- the workers have signed a contract with ITC directly, without the involvement of the Corporation.
The motivation for ensuring the success of this system is thereby ensured through this mechanism. The Corporation, to acknowledge this hard work and effort, carried out a felicitation ceremony wherein the workers were awarded by the then Mayor. This recognition follows the felicitation of 30 residents of the same ward who had been awarded by the mayor and the commissioner for being actively involved in the source segregation process and for helping the ward become garbage-free. The Coimbatore City Corporation has also started a system of penalizing people for throwing garbage in open spaces in ward number 23 and is planning to place banners to discourage the public from throwing rubbish in open spaces. Wall stickers are pasted by sanitary staff on houses which do not segregate waste regularly, this serves as a major deterrent to non-compliance. Based on the experiences at ward number 23, the project concept is now being replicated in other wards as well so as to take Coimbatore a step closer to being a zero waste city.
More information can be found here.
To know more about the South Asian activities of the SUNYA project, visit:
http://southasia.iclei.org/our-goals/resource-efficient-city/sunya-towards-zero-waste-in-south-asia/