COP25: CDKN Event Highlights Role of Women, Marginalised Communities in Climate Action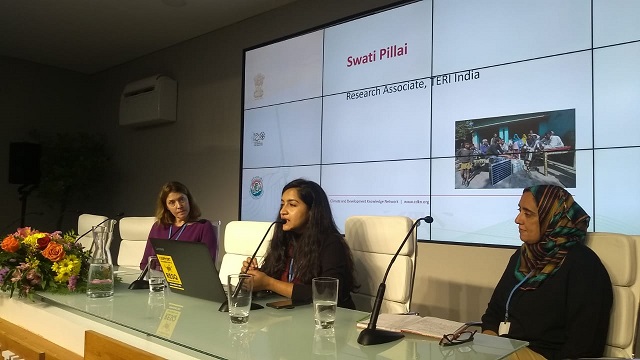 The Climate and Development Knowledge Network (CDKN) hosted a side event to discuss the role of stakeholders in the successful implementation of climate action, especially women and marginalised communities, during COP25 in Madrid in December.
CDKN is a demand-led network that helps developing countries in Africa, Asia and Latin America to achieve climate-compatible development goals. ICLEI South Asia is the Asia Coordinator for this network, and is implementing a project on climate knowledge brokering in India.
Representatives of government and non-governmental sectors from India and some African and Latin American countries participated in a panel discussion on different means of stakeholder identification and engagement that could lead to successful and inclusive climate action by local governments.
Swati Pillai, Research Associate, TERI India, said, "Capacity building and training of women needs to be held at regular periods to make them active participants in interventions." At the same time, Pablo Lloret, Chief Executive Officer, Fundación Futuro Latinoamericano (FFLA), pointed out, "Women play a key role in climate action and water security. However, many a time they are not the decision makers."
CDKN also introduced a unique concept of 'progress markers,' which help to assess the progress of stakeholders' capacity and involvement in climate projects.
Successful case studies of inclusive climate action achieved through stakeholder participation and engagement of Indian cities were showcased. They enabled the participants to learn about the importance of gender-sensitive and socially-inclusive climate action and to share their own experiences of engagement with stakeholders.
The impact of climate change is felt differently by different groups of people, and women and marginalised communities such as the urban poor are often the most neglected in these matters.
Mairi Dupar, Strategic Knowledge Manager, Overseas Development Institute, and Technical Advisor, CDKN, said, "Environmental stress and climate change are undermining women's well-being." Therefore, the responses to climate change should also address the needs of various communities. Inclusivity is key to the success or failure of local climate interventions.