COP25: ICLEI South Asia Hosts Key Side Events on Critical Climate Issues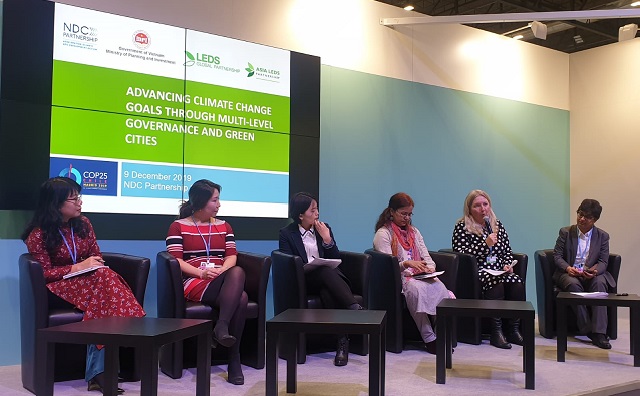 ICLEI South Asia hosted several side events at the annual UN climate conference or COP25, held in Madrid in December 2019, to showcase best practices in urban development. The side events highlighted key successes in climate-resilient actions in cities worldwide, the role of women and marginalised communities in climate action, and advancing climate change goals through multi-level governance and green cities.
ICLEI also co-organised the Local Governments and Cities Day, and actively participated in several key sessions that covered issues such as de-carbonisation and SDGs localisation, contribution of land use to a climate-neutral world, and the role of local governments in NDC implementation. Brief summaries of some of the events are given below; more details are available via the hyperlinks.
ICLEI South Asia hosted a side event on "Sharing of Best Practices in Urban Development" to present key successes by Indian cities in combating climate change and to highlight their role as change agents. Drawing from its experience in implementing urban development projects like Capacity Building for Low Carbon and Climate Resilient City Development (CapaCITIES), ICLEI South Asia highlighted the initiatives taken up by cities in the region to build resilience against the impacts of climate change. Full Article
The Asia LEDS Partnership, hosted by ICLEI South Asia, Southeast Asia and East Asia Secretariats, supported the Government of Vietnam in convening a session to showcase success stories and outcomes from Asian countries on vertical linkage / national and sub-national integration/city climate action plan/green cities through various initiatives. Full Article
The Climate and Development Knowledge Network (CDKN), of which ICLEI South Asia is the Asia Coordinator, hosted a side event to discuss the role of stakeholders in the successful implementation of climate action, especially women and marginalised communities. The session also emphasised the need to develop climate-smart cities by sharing best practices, greater collaboration and enhanced networking and partnerships amongst different stakeholders. Full Article
Mr. Emani Kumar, Deputy Secretary General, ICLEI & Executive Director, ICLEI South Asia, was invited to a side event organised by Ministry of Jal Shakti, Government of India, to discuss diverse challenges in the water resources sector in India. Several participating experts discussed issues such as water scarcity, water stress and climate change impact. Mr Kumar spoke on integrating resilience in water management and on project implementation experiences in India, especially ICLEI South Asia's extensive work in promoting Integrated Urban Water Management. Full Article