COP25: 'Resilience Strategies Are Key to Addressing Challenges in Water Resources Sector'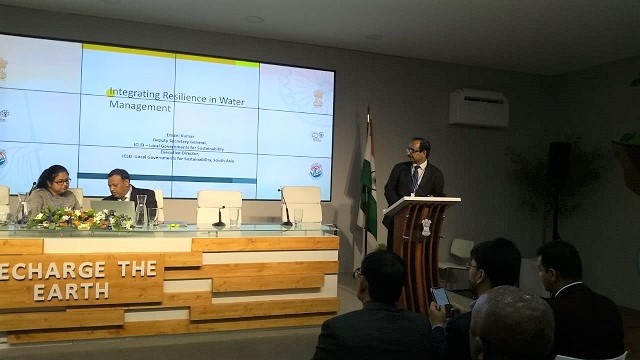 Ministry of Jal Shakti, Government of India, brought together several experts, including Mr. Emani Kumar, Deputy Secretary General, ICLEI & Executive Director, ICLEI South Asia, at a side event during the UN climate conference COP25 in Madrid in December. The session discussed diverse challenges in the water resources sector in India, such as water scarcity, water stress and climate change impact.
At the event, Mr Kumar spoke on integrating climate resilience in water management and on project implementation experiences in India, especially ICLEI South Asia's extensive work in promoting Integrated Urban Water Management.
He described how several cities received water transported from distant sources and that more than 40% of water in many Indian cities is lost as non-revenue water. He added that cities were key to addressing climate change by integrating water, energy nexus and climate resilience strategies in local development planning. However, insufficient infrastructure and lack of institutional reform is hampering the efficiency of the urban water sector.
"There is clear interconnection between the water sector, economy and climate change. There is a need to look at the RURBAN approach for water management," he said.
Mr. Kumar suggested that urban water management in cities required a combination of technical solutions, capacity building and effective governance mechanisms, adding that integrating resilience in water management would require: promotion of inclusive development and collaborative planning among rural, urban, peri-urban users; providing handholding support under various missions and programmes to promote integrated management of natural resources; showcasing innovative and cost-effective technologies for water management; strengthening Jal Shakti Mission by promoting rainwater harvesting in cities; and providing innovative financing opportunities for resource recovery and resource efficiency.
This was followed by presentations on ICLEI South Asia's regional (IAdapt) and city (Adopt IUWM) level projects on integrated water management. Other speakers from the government, private and non-governmental sectors discussed contributions by the Mahatma Gandhi NREGA programme in improving water resource management and sustainable groundwater management.