Solapur Workshop Underlines Integrated Approaches to Water Management at the Catchment Level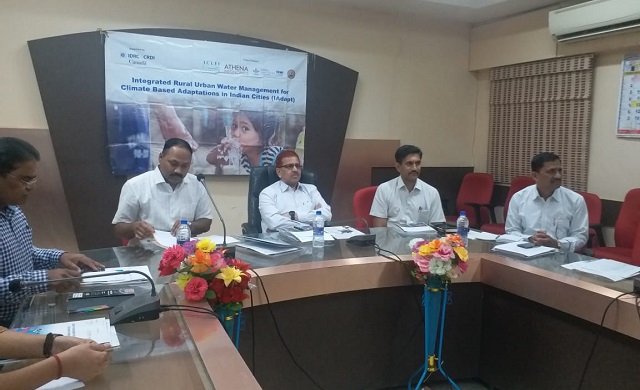 ICLEI South Asia organised a training workshop on catchment management planning of water resources, decision support tool for climate adaptive interventions of water management and financial modelling of waste water reuse in Solapur on the 19th and 20th of December 2019.
The workshop was organised at the Zilla Parishad, Solapur (ZPS). It was chaired by Sri Prakash T. Vaichal, CEO, ZPS; Mr. Vijay Londhe, Deputy CEO, ZPS; and Mr. Ajaysingh Vijaysingh Pawar, Chief Advisor and Deputy Commissioner, Solapur Municipal Corporation (SMC).
The workshop had about 30 participants, including engineers from the water and sanitation department, environmental engineers from ZPS; municipal engineers from the public health and engineering department (PHED) and city planning departments, SMC, and accounting department, ZPS; Gram Sevak, Tale Hipparga village; and students from Dayanand College, Solapur. Teams from ICLEI South Asia, Athena Infonormics and the International Water Management Institute (IWMI), Sri Lanka, provided the training using methodologies and tools developed under the IAdapt Project.
The training programme received a very positive response from the participants. Mr. Ajaysingh V Pawar requested the participants to include IUWM approaches in their day-to-day planning exercises, and explained the need for such approaches in drought-prone regions like Solapur. He appreciated ICLEI South Asia's efforts in data collection and in developing the catchment management plan, and requested that the financial models should be shared in detail with the commissioner and other municipal heads.
Mr. Londhe suggested that the pilot interventions should be upscaled to reach other villages under ongoing programmes like the Water Safety and Security Plans and Swatch Bharat Mission-Rural.