EcoLogistics Aims to Transform Urban Freight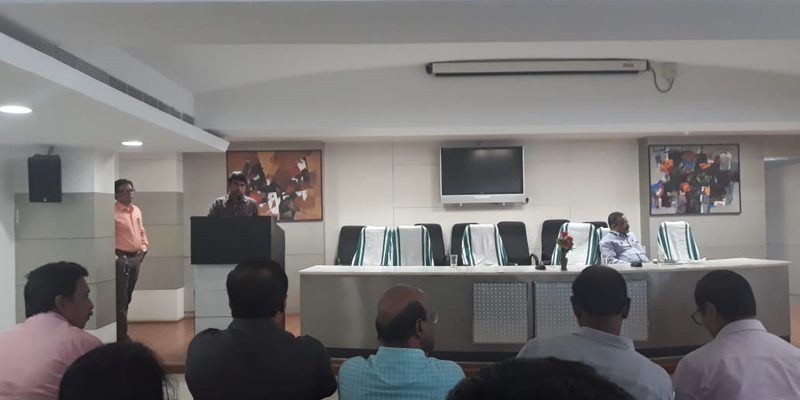 ICLEI South Asia was invited by Transport Department, Government of Kerala to initiate discussion on sustainable urban freight management in Kochi as part of proposals for transforming transportation in Kerala. The discussion on urban freight was part of a deep-dive workshop on the transportation in Kerala held on the 15th January 2019 at Transport Commissionerate, Thiruvananthapuram. The meeting was chaired by Mr. K Padma Kumar, IPS, ADGP and Transport commissioner and facilitated by Mr. K R Jyothilal, IAS, Secretary Transport Department, Government of Kerala.
Mr. Vijay Saini, ICLEI South Asia representative, presented the EcoLogistics project initiated in three Indian cities including Kochi in the state of Kerala. The project is supported by the German Federal Ministry for the Environment, Nature Conservation and Nuclear Safety (BMU) through its International Climate Initiative (IKI) program.
The project was introduced to the government officials which included representatives from the World Bank, Kochi Metro Rail Corporation, Kerala Motor Vehicles Department, Kerala Road Safety Authority, Kerala State Water Transport Department, Cochin International Airport Limited, Kerala Rail Development Corporation Limited and other relevant authorities responsible for on transport sector in Kerala.
Mr. Saini explained that the project aims to prioritise strategies that will focus on promoting the transportation of goods with minimised impacts on air quality, noise, health, fatalities and injuries, traffic congestion and reduced GHG emissions. He also stated that the project will create baselines of GHG emissions generated by the freight sector. These assessments will be the basis to develop their respective Low Carbon Action Plans for Urban Freight (LCAP-UF).
The LCAP-UF will define the GHG emissions reduction targets and corresponding actions. To showcase the potential of low carbon urban freight strategies identified in the LCAP-UF, a set of demonstration projects will be implemented. Based on the outcome, national policy recommendations will be suggested to strengthen appropriate framework conditions for local actions to improve urban freight.
The participating officials welcomed the EcoLogistics project, calling it a timely initiative. Mr. Jyothilal emphasised that "sustainable freight management is crucial not only to reduce environmental externalities from sector but also to promote the efficient goods movement in order to promote economy and create employment opportunities".