Experts Concur to Sustain Practices Implemented under Urban Nexus Project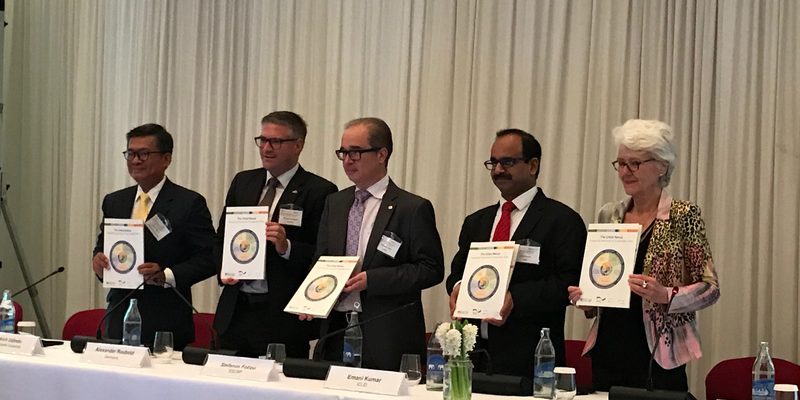 The Ninth and the concluding Regional Workshop on the "Integrated Resource Management in Asian Cities- The Urban Nexus", project funded by the German Federal Ministry for Economic Cooperation and Development (BMZ) and implemented by Regional GIZ in partnership with UNESCAP and ICLEI-Southeast and South Asia was organised on 22nd and 23rd of May at Bangkok.
More than 100 representatives from national, sub-national and local government; officials from the Urban Nexus Partner cities and countries; international Agencies, academia, city networks, financing institutions, private sector enterprises and other relevant stakeholders participated in two days' workshop. The workshop highlighted six years of successful implementation of integrated solutions and optimum use of resources as part of Urban Nexus project.
The workshop was inaugurated by Dr. Stefanos Fotiou, Director, Environment and Development Division, ESCAP; Dr. Alexander Raubold, Economic and Commercial Counsellor, Embassy of the Federal Republic of Germany; and Mr. Emani Kumar, Deputy Secretary-General, ICLEI World Secretariat, ICLEI.
Dr. Sukich Udindu, Associate Dean, School of Development Studies, Thammasat University delivered keynote address focussing on "Disruption in Dream Cities and Partnership for Sustainable Future".
He explained various aspects to be considered for sustainable future including mind-set, behaviour and population and emphasized the need to include private sector through PPP. Concepts such as sufficiency for sustainability, revitalizing the global partnership for sustainable development, Corporate Social Responsibility (CSR) as tool to involve private players were discussed substantiated with examples from Thailand.
Further, mayors and local leaders discussed to institutionalise the nexus approach to sustain momentum through political changes; academia and training institutions discussed ways to incorporate integrated approaches in their curricula to increase the momentum to advance the nexus approach and shared their views on interdisciplinary learning; local leaders and private sectors elaborated on technological applications, financing, and policy to support improvements; researchers and practitioners examined various technological, financial and policy dimensions to advancing innovative solutions with a focus on quantification of the costs and benefits for green buildings, vacuum sewer systems, eco village concepts; project partner cities shared the experience with resource integration, inter-institutional cooperation, and progress with achieving global agendas; officials from local government shared the experience with integrating SDGs into local action by interlinking urban resource use with other sustainable development dimensions including multi-stakeholder engagement, local expertise, and data availability.
Dr. Ramnath Sonawane, Chief Executive Officer, Nagpur Smart and Sustainable City Development Corporation Limited (NSSCDCL) and Mr. Rajesh Dufare, Assistant Engineer, General Manager (Mobility), Nagpur Smart City and Mr. Paresh Patel, Deputy Executive Engineer FROM Rajkot Municipal Corporation participated in the workshop and provided their inputs. Also, Mr. Kaushik Ghosh, Assistant Professor, Urban Management Centre, Administrative Training Institute, Government of West Bengal represented the training institutions from India.
Mr. Emani Kumar presented on the status of SDG implementation at the local level, focusing on the project cities. Along with Mr Kumar, Mr Ankit Makwana represented ICLEI South Asia at the workshop.
This final workshop commemorated the achievements of the Urban Nexus Project, while fostering a way forward to sustain and expand the momentum from peer to peer learning across sectors, replication and scale-up best practices from other countries and cities.
The workshop also provided platform for experts and practitioners to exchange ideas via a moderated discussion, share selected infrastructure solutions, addressing financing and policy transformations to achieve the Urban Nexus approach.