GHGPI Holds Workshop on India's Emission Estimates, State Actions and NDC Progress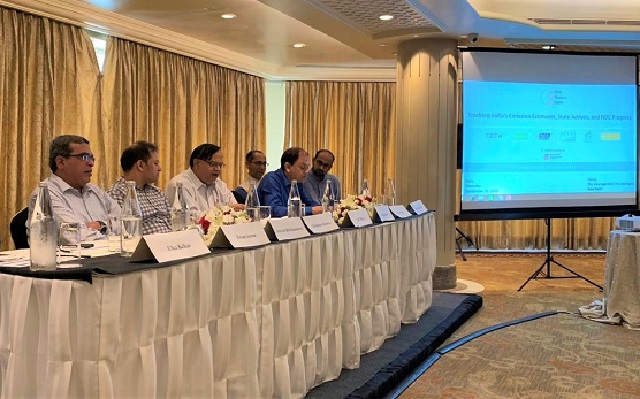 GHG Platform India (GHGPI) shared outcomes from their work on India's greenhouse gas (GHG) emission estimates, climate action by states, and contributions of subnational actions toward the achievement of nationally determined contributions (NDC) in a workshop that was held in Delhi on the 26th of September, 2019.
The workshop was jointly organised by the member institutions of the platform Vasudha Foundation, Council on Energy, Environment and Water (CEEW), Centre for Study of Science, Technology & Policy (CSTEP), ICLEI South Asia and World Resource Institute of India (WRI) and supporting partner Shakti Sustainable Energy Foundation. Among the attendees were Dr. J.R. Bhatt, Advisor (Climate Change), Ministry of Environment, Forest and Climate Change (MoEFCC), Dr. Ajay Raghava, Director, MoEFCC, Mr. Shwetal Shah, Technical Director, Department of Climate Change, Government of Gujarat, Mr. Prateek Barapatre, Expert, Environmental Planning & Coordination Organisation (EPCO) – Madhya Pradesh, Dr. Vijeta Ratttani, Expert Climate Change, GIZ and Ms. Urmi Goswami, Assistant Editor, Economic Times. Other representatives from the media, civil society groups, think tanks and research organisations were also present.
Partners presented key insights from latest GHG emission estimates for India at national and state level, prepared by the GHGPI. Highlights from the policy impact evaluation of Gujarat state and the platform's work on designing the mitigation component of Madhya Pradesh's State Action Plan on Climate Change (SAPCC) version 2.0 were also shared. The workshop also featured interactive discussions related to the implementation of India's NDCs and the role states to implement the same and on awareness of climate change among the youth.
In his address, Dr. Bhatt shared the importance of analysing sector policies and linking the findings of GHGPI analysis with implementation of flagship programmes. He highlighted that the Government of India is the first and foremost user of the platform, with the GHGPI's efforts to generate an extensive and publicly available resource-base and analysis on GHG emissions on behalf of the civil society recognized in India's Second Biennial Update Report to the United Nations Framework Convention on Climate Change (UNFCCC).
He emphasised the need for promoting the use of the GHGPI database stating "The extensive information provided by the GHGPI is very important. If we participate and use this home-grown platform, the world would also refer to this database."
Dr. Ajay Raghav a commended GHGPI's efforts to generate comprehensive emissions data at the national and state level and noted "India aspires to move towards more granular tier 2 and tier 3 estimation and reporting of GHG emissions and welcomes technical support from the platform in preparing the upcoming Biennial Transparency Reports".
Mr. Emani Kumar, Executive Director, ICLEI South Asia, also stressed on the importance of analysing mitigation impacts of large programmes such as SBM and waste to energy infrastructure deployment, especially in the light of notable developments on this front in the municipal solid waste sector across states.
Mr. Shwetal Shah underlined Gujarat's intent to mainstream climate actions with the state's plans and policies along with a focus to promote low carbon lifestyles. Mr. Barapatre, highlighted Madhya Pradesh's work on conducting scientific studies to address climate impacts due to agricultural practices in the state. He also brought to the fore, the state's plan to increase the number of Climate Smart villages.
ICLEI South Asia is GHGPI's technical lead for the Waste sector and has contributed to various activities in third phase of the platform, including:
National and State level GHG emission estimates from 2005 to 2015
Preparation of Madhya Pradesh's SAPCC 2.0 (mitigation component) to help align it with India's NDC goals
Assessment of GHG mitigation impact of Gujarat state's policies and programmes
Materials from the workshop can be accessed here.
Further information on the GHG Platform India can be found at www.ghgplatform-india.org