Habitat III: Months before Quito, nations come together for prep meet; ICLEI hosts side event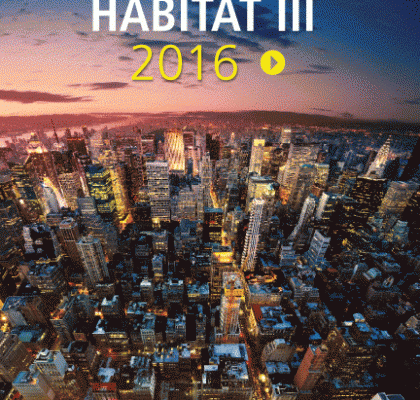 ICLEI Local Governments for Sustainability recently collaborated with Universiti Teknologi Malaysia (UTM), Cities Development Initiative for Asia (CDIA), Communitas Coalition, Iskandar Regional Development Authority, the Ministry of Public Works and Public Housing of Indonesia, and the Institute for Global Environmental Strategies (IGES)-Japan for a side event at Habitat III PrepCom3, held on July 27 in Surabaya, Indonesia.
At the conference, the South Asia and Southeast Asia secretariat of ICLEI organised a side event to showcase transformative approaches and initiatives carried out at the local level across various spectrums of Asian cities and regions by different stakeholders from the global, regional, national and the local levels.
The conference on housing and urban development served as a dry run for the four-day Habitat III conference in October, in Quito, Ecuador. At Surabaya, a parade of nations has offered a glimpse into what they will bring to the table in Quito, on housing and urban development. Earlier on May 6 this year, the draft text of the United Nations Habitat III Quito Declaration was published. This landmark document is due to be formally adopted during the Habitat III conference, and details the path to sustainable urban development across the globe, otherwise known as the "New Urban Agenda".
Meanwhile, the side event also showcased various experiences, studies, best practices, and lessons learned on various issues in the New Urban Agenda, such as disaster resilience, air quality, low-carbon development and urban planning from the cities of Malaysia, Indonesia, Japan, South Korea and the Philippines.
Delegates at the event included government leaders, experts, academics, and global agencies. The diversity of experiences in Asia was reflected in the composition of speakers and their discussions involved multinational (Malaysia, South Korea, Japan, Indonesia, India), multilevel (local, regional, national governments), and multi-stakeholder (governments at all levels, international agencies, academe, and finance partners) aspects.
Asian cities are also among the most vulnerable in the world. One-in-three disasters over the last thirty years occurred in Asia, and it is projected that the region could face annual losses caused by disasters by at least US $19 billion.
The event welcomed speakers from the region, including Mayor Maimunah Shariff, Municipal Council Of Seberang Perai, Malaysia and ICLEI Global Executive Committee; Mr Junghyun Kim, Global Urban Partnership Division of Seoul Metropolitan Government; Ms Claudia Hermes, CDIA; Dr Ho Chin Siong, UTM; Mr Boyd Dionysius Joeman, Iskandar Regional Development Authority; Dr Junichi Fujino, IGES-Japan; Mr Edward Abdurrahman, Ministry of Public Works and Public Housing of Indonesia; and Mr Yunus Arikan, ICLEI World Secretariat and Mr Emani Kumar of ICLEI South Asia and ICLEI World Secretariat moderated the event.
Datuk HJ. Mohammad Bin Mentek, Secretary-General of Malaysian Ministry of Urban Wellbeing, Housing and Local Government and Head of Malaysian Delegation at Habitat III PrepCom3 delivered a warm and encouraging closing remark, congratulating all the partners and inviting an active collaboration in the preparation of World Urban Forum nine in Kuala Lumpur, Malaysia on February 2018.