ACCCRN expands to two more cities of Bangladesh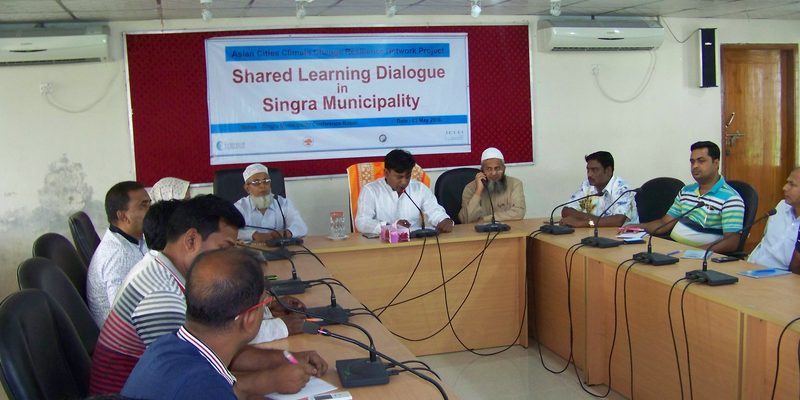 ICLEI South Asia has begun work on building resilience in two more cities of Bangladesh by initiating stakeholder discussions. The discussions were held in in Kustia and Rajshahi cities using the ICLEI ACCCRN Process that was supported by Rockefeller Foundation. Going forward, ICLEI will coordinate with the "Core Teams" of these cities to identify resilience interventions that can help to reduce their vulnerability.
Before this, we have been working with 3 cities of Bangladesh –Singra, Mongla and Barisal. During a visit to the South Asian country in May 2016, a team of experts from ICLEI South Asia engaged with local stakeholders of Kustia and Rajshahi and organised cross learning sessions with them, through the ICLEI ACCCRN Process.
In both the cities, the Process was introduced to the Mayor and other officials by ICLEI South Asia staff and a Core Team and a Nodal Officer were identified from amongst the municipal officials. The Nodal Officer in each city also identified a Stakeholder Group consisting of representatives from local NGOs, schools, scientists, community, as well as councillors.
During the field visit, a shared learning dialogue (SLD) was conducted in Kustia on 30 April 2016 and in Rajshahi on 2 May 2016 with around 20-25 participants from the Stakeholder Group as well as the Core Team. The SLD started with ICLEI staff giving a brief introduction of climate change and the science behind it. The team facilitated the discussion and helped the Stakeholder Group to conduct a timeline of major climatic disasters in the city in the previous 30 years. The Group then identified fragile urban systems in the city that were assessed to identify the risks to these systems. The high and extreme risk fragile systems and issues were analysed further to assess their vulnerability by identifying the vulnerable areas and vulnerable population.
ICLEI team also visited Singra where another SLD was conducted to complete the Phase IV of the ICLEI ACCCRN Process. During this SLD, there was a brief recap and review of the work conducted previously and its outcomes in Singra, followed by a discussion on identification of resilience interventions and their prioritisation. These will be used to develop the final city resilience strategy for Singra.
All three cities of Singra, Kustia and Rajshahi have also shown interest to participate in the Small Grants Funding Scheme supported by Rockefeller Foundation, which will help to conduct a pilot implementation project based on the interventions identified in the city.