HEAT+ Training in Indonesia: A tailor-made tool for managing emissions.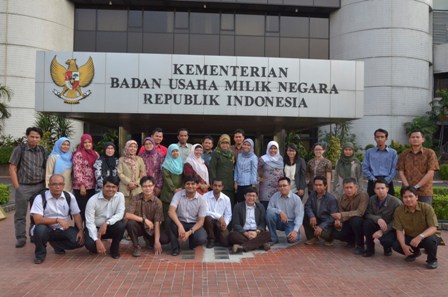 Designed especially for Indonesian cities and carried out by ICLEI South Asia, a two day training programme on Harmonized Emissions Analysis Tool Plus (HEAT+) was held on 23-24 September 2013 in Jakarta, Indonesia.
HEAT+ is ICLEI's multilingual online emissions inventory tool which helps local governments account for GHG emissions, Common Air Pollutants (CAP) and other Volatile Organic Compounds (VOC). The accounting and database capabilities of HEAT+ have helped several local governments make informed decisions in formulating targeted action plans by leveraging measures that offer the highest and most cost-effective impact in emissions and pollutant abatement. On one single platform HEAT+ enables cities and towns to perform various functions like preparing a baseline inventory, forecasting emissions and determining priorities, preparing action plans and reporting to the international reporting platform for cities – carbonn Cities Climate Registry (cCCR), the world's largest global database of local climate actions.
The training was hosted by the Indonesian National Council on Climate Change (Dewan Nasional Perubahan Iklim- DNPI) and saw the participation of more than ten Indonesian cities, as well as representatives from the Indonesian Centre for Agricultural Land Resources Research and Development (ICALRRD), the National Centre of National Action Plan for Greenhouse Gas reduction, the Ministry of Energy & Mineral Resources, APEKSI (Asosiasi Pemerintah Kota Seluruh Indonesia), the association of Indonesian Municipalities and Japan International Cooperation Agency (JICA).
During the course of the training, useful tips on how to generate a GHG emission inventory, create multiple scenarios for mitigation options, interpret reports and dashboard information and other decision making tools in the software were discussed. Hands-on training was conducted on using the software to generate a GHG emissions inventory, create reduction targets and mitigation measures to generate a climate action plan.
Trainees found HEAT+ easy to use and indicated that it is a comprehensive tool which supports cities in developing mitigation measures and action plans, as well as in setting future targets and in creating comprehensive and detailed online reports. The ability of the software to create separate inventories for community actions (city wide emissions) and government operations was much appreciated. All training participants agreed that HEAT+ generated reports are an efficient and comprehensive tool to support decision making – they however expressed their concern over identification of relevant data sources for creating the GHG emissions inventory, this information is not being collected by the cities as yet.
At the end of the two day training programme all participants had created sample GHG emission inventories and climate action plans. Very satisfied with the training, the participating cities asked ICLEI South Asia to provide city-specific trainings on HEAT+. DNPI itself, recognizing the importance of HEAT+, showed interest in pilot testing the software in various Indonesian cities.