Learning on the ground: SUNYA cities visit Europe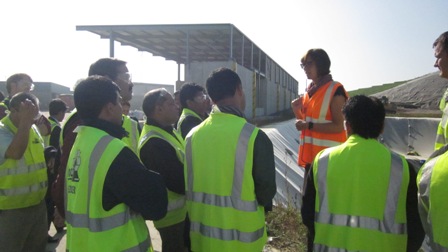 It was not only on paper the exchange of best practices that the SUNYA cities had a chance to be part of: through the European Union funded project "SUNYA-Towards Zero Waste in South Asia", the cities of Tansen and Hetauda in Nepal, Shimla in North India and Coimbatore in South India, Phuentsholing in Bhutan, Dhaka in Bangladesh and Matale in Sri Lanka went on a European study visit from 23 to 27 September 2013.
The project cities, along with representatives from the Municipal Association of Nepal and ICLEI South Asia, travelled to Brussels (Belgium) and Vienna (Austria), where the European partners ARGE and the Association of Flemish Municipalities (VVSG) are respectively based. The study tour gave to the South Asian participants an opportunity to observe on the ground the overall waste management system as well as the different applications of the 3R Principle (Re-Use, Reduce and Re-cycle) for Solid Waste Management (SWM) applied in European cities. The different site visits were followed by a discussion on the possibilities to emulate, with suitable modifications to suit the local context, these practices in the South Asian context.
As part of the trip, the SUNYA cities were taken to the Belgian waste management facility centre Indaver, which works on behalf of local authorities who are looking for a suitable partner to assist them in the execution of their waste management plan. Indaver's public waste partnerships help public authorities implement a sustainable and cost-effective waste management. The benefits of inter-municipal associations to handle solid waste (such as the one in the Flanders region) were also illustrated to the South Asian delegation: high quality service provision, more efficient management, stability in the overall cost management and lower cost per inhabitant.
The following visit to the Antwerp administrative office and the waste collection sites at Antwerp saw the officials explaining to the group their door-to-door waste collection process and sorting waste techniques. The team also visited IMOG (Inter Municipal Organization), located in Moen, where IMOG's work and their inter-municipal cooperation with the neighbouring 11 municipalities to handle waste was presented to the team.
The team then moved on to Graz, Austria, where the 3rd SUNYA Project meeting was held. A study visit was then made to the municipal waste collection centre of the city, where the entire waste management process was demonstrated to the group. Project cities were also shown the composting process pertaining to generation of manure from the municipal waste at several composting sites.
To conclude the tour, the South Asian delegates were taken to Komptech, to visit the leading international technology supplier of machinery and systems for the mechanical and mechanical-biological treatment of solid waste and for the treatment of biomass as a renewable energy source.