Himalayan Project Begins Participatory Landscape-level Mapping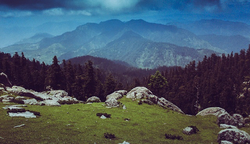 Detailed field studies have begun in the Lahaul landscape, Himachal Pradesh, under the UNDP-supported SECURE Himalaya project.
The aim of the exercise is to understand people's dependence on forests for livelihood, the impact of climate change and the people's perception of the issue of degradation and its consequences.
A project team has carried out focus group discussions in Udaipur, Urgos, Tindi and Khanjar villages in the Lahaul landscape. In addition, participatory village mapping in each village has been completed, while a household-level questionnaire survey and ecological studies are being conducted. Discussions have been held with pastoral herders too.
The exercise will be conducted in the Pangi and Kinnaur landscapes as well. Once the results are compiled, two micro landscapes that are hotspots of degradation will be identified and the restoration packages will be developed.