Howrah and Bhubaneswar, India, advance on their Solar City path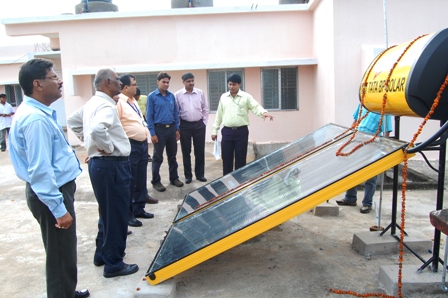 The month of March was busy with Solar Cities activities for the ICLEI South Asia team, from collecting information to finalise Howrah's solar city master plan, to meeting the Ministry of New and Renewable Energy (MNRE) high-level committee and get approval for the Bhubaneswar's one. The MNRE Development of Solar Cities programme is supporting 60 urban local authorities in India in their transition to become a Solar City; ICLEI South Asia has been assisting 14 of them in this process.
During the 4-day visit in Howrah, the ICLEI South Asia team met Howrah Municipal Corporation (HMC) officials and other relevant stakeholders with the goal to collect the necessary data needed to finalise the draft solar city master plan report, which will then be approved by HMC and submitted to the MNRE.  In the meantime, Howrah has already started its solar activities, by developing five pilot projects, which aim to install renewable energy devices on a number of municipal corporation buildings –  ICLEI South Asia is currently checking the feasibility of the installations.
The city of Bhubaneswar is already at a more advanced stage, with the submission to the Ministry of New and Renewable Energy (MNRE) of the final master plan report prepared by ICLEI South Asia. The report was discussed in details on 24th March 2014 during a meeting conducted with the MNRE high-level committee, MNRE Joint Secretary Mr. Tarun Kapoor and, among others, representatives from Bhubaneswar Municipal Corporation and ICLEI South Asia. The review panel suggested some changes to the plan, such as the inclusion of industries specific data and corresponding customised solutions for them, a grid connected solar rooftop for domestic and government sector, promotion of Concentrating Solar Power (CSP) technologies in the city and LED solar street lighting for the municipal sector, which will now be further incorporated in the document. The final master plan report is expected to be approved tentatively by May 2014.
For further information on ICLEI South Asia's project activities for the Development of Solar Cities programme, visit: