Hyderabad Unveils Reverse Vending Machines to Tackle Plastic Waste, Promote Circular Economy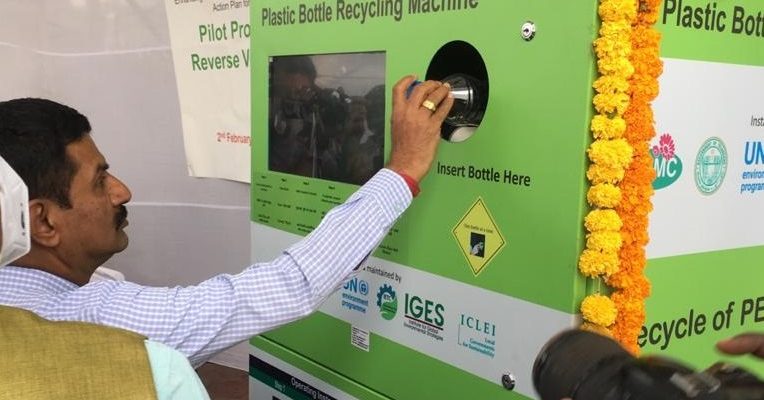 Three reverse vending machines (RVMs) were inaugurated in Hyderabad on the 2nd of February 2021, marking the launch of several initiatives to ensure systematic collection and transport of PET bottles to authorised plastic recycling facilities in the city.
The RVMs have been set up under the "Enhancing Circular Economy Perspectives – Plastic Waste Management Strategy and Action Plan for Greater Hyderabad Municipal Corporation" project, supported by the IGES Centre Collaborating with UNEP on Environmental Technologies (IGES-CCET) Japan, with ICLEI South Asia as the implementation partner. The project aims to strategise and implement a multi-pronged approach and bring a much-needed transition from a 'Cradle to Grave' to a 'Cradle to Cradle' approach in plastic production, consumption and disposal value chain.
Chief Guest Mr. N. Samrat Ashok, Zonal Commissioner, Charminar Zone, and Mr. S. N. Surya Kumar, Deputy Commissioner, Charminar Circle, inaugurated an RVM at Charminar. "This is one of the first such initiatives in Hyderabad. I will personally ask all GHMC officers to take this forward," Mr Ashok said at the event.
Two more RVMs were inaugurated at the Mahatma Gandhi Bus Station by Mr. Sunil Sharma, Principal Secretary, Transport, Roads and Buildings Department Government of Telangana, Mr. Bhadvath Santhosh, Additional Commissioner (Health and NUHM), and Ms. B. Vijendra, Special Secretary, Transport, Roads and Buildings Department, Government of Telangana. The event was attended by Mr. A. Purushotttam Naik, Executive Director of Telangana State Road Transport Corporation (TSRTC), Greater Hyderabad Zone; Mr. P. Muni Shekar, Executive Director, Hyderabad and Karimnagar Zone, TSRTC; and Ms. Vara Prasad, Regional Manager, TSRTC. Mr Bhadvath Santhosh said at the event, "To control the menace of plastic waste, proper disposal habits and different collection mechanisms need to be in place. RVMs have the potential to enable this."
Mr. Emani Kumar, Deputy Secretary General, ICLEI Global and Executive Director, ICLEI South Asia, said that the Plastic Waste Management Strategy and Action Plan, developed with the GHMC under the project, would enable Hyderabad to move towards embracing a circular economy, and guide the implementation of several actions required to ensure sustainable plastic waste management. The RVMs are a step in this direction. ICLEI South Asia has assigned Biocrux India Pvt Ltd the work of designing, supplying, commissioning and the operation & maintenance of the RVMs for seven years.
People can deposit waste PET bottles in the RVM and receive rewards in the form of cashbacks or discounts on bus tickets. The bottles would undergo pre-processing inside the machine, and later get converted into clothing items such as T-shirts and caps. This could influence consumer behaviour and help to develop better waste management practices at the community level. To build awareness on the use of the RVMs, banners are being put up at four entry points to the Charminar area. Information on the commissioning of the RVMs is also being disseminated over the public announcement system at the bus station.