ICLEI & ARC launch Indian Green Pilgrim Network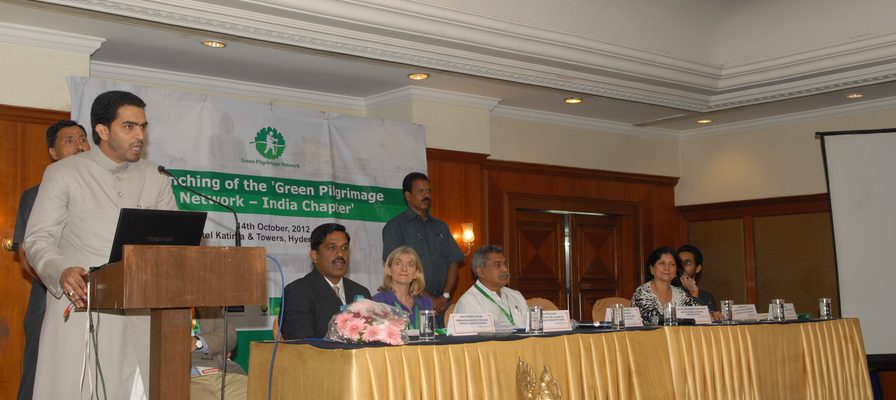 On the 7th day of the UN COP 11 of the Convention on Biological Diversity in Hyderabad, eleven of India's holy towns and cities came together to launch the India chapter of the international Green Pilgrimage Network (GPN).
The Alliance of Religions and Conservation (ARC) and ICLEI- Local Governments for Sustainability hosted the meeting, bringing together representatives of the Hindu, Sikh, Muslim and Buddhist cities of Amritsar, Guntur, Howrah, Visakhapatnen, Shirdi, Ujjain, Haridwar, Rishikesh, Varanasi, Ladakh and Bodh Gaya. The India chapter joins an international network of 12 global cities located across Europe, Africa and Asia.
On any given day of the year, hundreds of thousands of people around the world are on pilgrimage. The goal of the network is to encourage pilgrims, and pilgrim cities and places of every faith throughout the world to become models of care for the environment.
It is fitting that India should host a new branch of the Green Pilgrimage Network as pilgrimage is central to the experience of faith in India. Nowhere else in the world has more pilgrim cities of all faiths or larger numbers of pilgrims. It is said, for example, that the Maha Kumb Mela in Allahabad in 2001 was the largest human gathering in recorded history – up to 70 million people. Other major pilgrim sites attract millions every year including 30 million in Tirupati, 30 million in Amritsar, and 1.5 million in Ajmer. Other pilgrim places such as Rishikesh, Varanasi and Bodh Gaya also attract a sizeable number of pilgrims.
The goals of this network are to ensure that the planning and implementation of tourism at pilgrimage sites have minimum negative environmental impacts. The Green Pilgrimage Network aims to†help different faiths make their holy cities and sacred sites as environmentally sustainable as possible, based on their religious beliefs.
Representatives from the government of Andhra Pradesh, including the Mayor and city commissioner of Hyderabad and the Honourable Minister for Municipal Administration and Urban Development, endorsed the meeting and mentioned some of the greening initiatives already underway in the state, such as solar powered cooking for Tirupati temple's 15,000 daily devotees. In his opening address, the Commissioner commented:
This new program being launched today is unique, in that it aims to bring together religions and local governments. I cannot think of a better place to have such a network than India. With religious sites in every corner of the country, India has a sacred geography that is inclusive of every major religious tradition in the world.
Member cities agreed to meet again in a years time, where they will share sustainable solutions for pilgrim cities for greening waste, sanitation, buildings, transport, food and accommodation and share strategies to make the hosting of large scale pilgrimage more sustainable and environmentally friendly. This new network will encourage the sharing of best practice between pilgrim sites in India, and with those around the world.
It is expected that the Green Pilgrimage Network – Indian Chapter will:
Create a network of sustainable and earth-friendly pilgrim sites across India
Join an existing network of 12 international member cities
Create a theological basis for green pilgrimage for each religion
Encourage religions to work with government agencies, NGOs and private companies
Create plans for promoting sustainability and care for the earth
Share stories, wisdom and tradition
Ask pilgrims to walk lightly and travel responsibly in the spirit of their religion
Inspire pilgrim sites to celebrate their pilgrims and green their religious festivals