ICLEI member Shimla shines at the World Summit in Lyon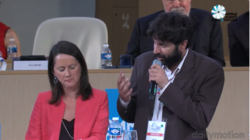 Shimla was among the three cities (hailed for Urban-LEDS (Low Emissions Development Strategy) held at the World Summit – Climate and Territories in Lyon, France on July 2. Addressing over 800 Summit participants, representatives of Urban-LEDS cities Shimla (India), Fortaleza (Brazil), KwaDukuza (S. Africa) and Copenhagen (Denmark) shared their low carbon actions and commitments.
Shimla municipal corporation, along with 50 others organizations, vowed to take collective initiative towards climate change.
"The aim of summit was to send out an influential message to the delegates, who will be taking part in the approaching COP21 global climate summit to be held in Paris in December where around 196 states will take the pledge to limit global warming by 2 degrees Celsius," said Deputy Mayor of Shimla, Tikender Singh Panwar.
The Summit, organized by the Region Rhône-Alpes under the patronage of French President Francois Hollande was attended by over 800 representatives of non-party stakeholders from all major groups. Together they have cemented their message for COP21 in Paris at the end of the year: cities and regions around the world are ready and on track to meet the challenges of climate change and commit our societies to a low-carbon resilient path that will keep global temperatures under a 2°C increase.
The Summit has also shown that cities, local governments, business and civil society are now asking nation states to take responsibility and to act appropriately. "It's time for national governments to step up, listen to their citizens, and give them what they want", said David Cadman, Special Representative of the ICLEI Presidency in the closing plenary on non-party stakeholders' commitments.
Highlights of the plenary on non-party stakeholders' commitments included presentations from ICLEI Secretary General Gino Van Begin, together with President Mohamed Ibrahim of the Timbuktu Region, on the outcomes of the Adaptation Workshop, co-organized by ICLEI, Green Cross, and the International Chamber of Commerce. Member cities of ICLEI also made significant contributions:
Mayor George Ferguson of Bristol, UK – the European Green Capital 2015 – presented the latest data from the carbonn Climate Registry, which currently supports 12 global initiatives and commitments from over 500 cities, who together have committed to approximately 1 billion tons of CO2 emission reductions. Mayor Ferguson invited cities to bridge the gap between ambition and action by using the cCR for data-supported advocacy.
Deputy Mayor Tikender Singh Panwar of Shimla, India presented the Compact of Mayors. Shimla has committed to the Compact, along with Vancouver, Bristol, and Copenhagen. Through the Compact, ICLEI is working with partners UCLG and C40 to help cities reduce local greenhouse gas emissions, enhance resilience to climate change and track and report.
Mayor Morten Kabell of Copenhagen, Denmark announced the commitment of the city to become the world's first carbon neutral capital of the world.
Vice Mayor Raymond Louie of Vancouver, Canada presented the ambition of the City of Vancouver to become carbon neutral.progress publicly.
More information on the World Summit can be found here.