ICLEI South Asia Emphasises Sustainable Freight Strategy at Kochi Conference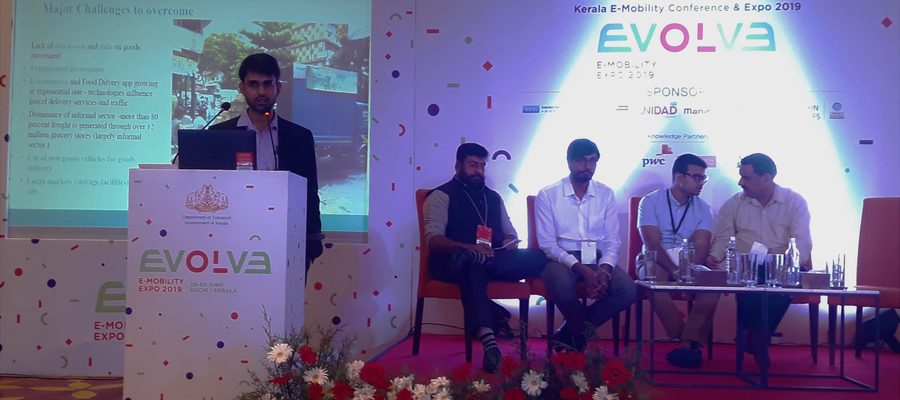 The Kerala government invited ICLEI South Asia to initiate a discussion on sustainable urban freight management with the objective of greening the freight sector in the state.
The discussion on "Greening the freight" was held as part of 'Evolve: Kerala E-Mobility Conference and Expo 2019,' held on the 29th and 30th of June 2019 at Grand Hyatt, Kochi.
This follows a capacity building Kochi workshop organised in early June by ICLEI SA on sustainable urban freight, which sensitised more than 175 stakeholders from government agencies (city, state and national) and the private sector.
Pinarayi Vijayan, Chief Minister, Kerala inaugurated the 'Evolve' conference in the presence of key officials such as Hibi Eden, MP, Kochi; Amitabh Kant, CEO, NITI Ayog; and K R Jyothilal, Secretary, Transport Department, Government of Kerala, among others. During the conference, government officials and sectoral experts deliberated on the future of transportation in Kerala and the way forward on issues such as creating a road map for the state for implementing the EV policy, using electric buses for public transport, funding for electric mobility and greening of the freight sector, besides strengthening manufacturing opportunities for EVs in the state.
ICLEI South Asia representative Vijay Saini presented the approach and activities that had been conducted in Kochi as part of the 'EcoLogistics: Low Carbon Freight for Sustainable Cities' project. The German Federal Ministry for the Environment, Nature Conservation and Nuclear Safety (BMU) supports the project as part of its International Climate Initiative (IKI) programme. Mr Saini explained the externalities related to urban freight and the need to mainstream sustainable urban freight.
The presentation included a discussion on low carbon urban freight strategies and policies that could promote goods transportation with minimised impacts on air quality, noise, health, fatalities and injuries, and traffic congestion, besides reducing GHG emissions.
He emphasised that "sustainable freight management is crucial not only to reduce environmental externalities from the sector, but also to promote efficient goods movement to promote the economy and create employment opportunities".
The session on greening urban freight was chaired by Sudesh Kumar, IPS, Transport Commissioner, Government of Kerala, with Dr K Ellangovan, IAS, Principal Secretary, Industries and Commerce, Kerala, delivering the keynote remarks. Dr Ellangovan stressed the need for promoting sustainable freight. He said, "Kerala is one of the most consumerist states. Almost every material that is consumed in Kerala, comes from other states, which causes congestion on the national highways. Therefore, the government is increasingly thinking of shifting bulk cargos from the road to inland waterways."
The participating officials and the audience welcomed the EcoLogistics approach, calling it a timely initiative.