ICLEI South Asia marks milestone closure for AdoptIUWM in four Indian cities, launches Toolkit to help more cities in integrated urban water management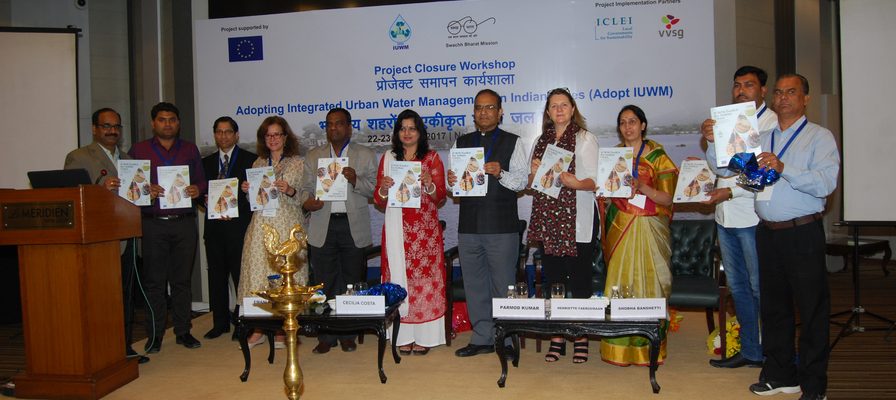 ICLEI South Asia recently conducted the closure workshop to mark successful implementation of European Union (EU) funded AdoptIUWM project implemented in four cities of India – Jaisalmer and Kishangarh in Rajasthan, and Ichalkaranji and Solapur in Maharashtra, in partnership with ICLEI European Secretariat and Association of Flemish Cities and Municipalities (VVSG). Held on March 22, 2017 at Le Meridian, New Delhi, the workshop aimed at introducing the IUWM Toolkit for Indian Cities that has been developed under AdoptIUWM project and tested in four cities across the country, to help cities better manage water and through integration of various components. The Toolkit is an Indian version of a framework developed within research project 'Switch – Managing Water for the City of the Future'.
The workshop was inaugurated by Mr. Parmod Kumar, Director, Ministry of Urban Development, Government of India; Ms. Henriette Faergemaan, Councillor, Environment, Energy and Climate Change and Ms. Cecilia Costa, Programme Coordinator, Cooperation Unit, EU Delegation to India; and Ms. Shobha Banshetti, Mayor, Solapur. Representatives from European Commission, Government of Rajasthan and more than 70 other participants from 25 cities across India were present at the workshop.
The Toolkit was launched by Shri Parmod Kumar who congratulated the team for their work and asserted that such efforts towards sustainability never come to a closure; they only mark new beginnings. "Indian cities can be engines of growth only if they are sustainable in all aspects," said Mr Kumar as he hoped that future synergies of the national and international agencies with the Government of India will lead to more collaborations and impact.
Speaking at the inaugural session of the workshop, Ms Henriette Faergemaan, Councillor, Environment, Energy and Climate change, European Union proposed that India-EU Water Partnership has opened channels for execution of joint efforts where stakeholders and ministries can come together to work on water-related challenges. Ms Cecilia Costa, Programme Coordinator, Cooperation Unit, EU Delegation to India, insisted that addressing capacities of urban bodies will be a major step towards building sustainable habitats and the AdoptUWM is one such project that benefitted local authorities in many ways.
Mr Emani Kumar, Executive Director, ICLEI South Asia enlightened about the relevance of the project and the Toolkit and said that the Toolkit developed through this project goes a step ahead as it has already been tested in four cities. "We are hopeful that these four and even more cities will take the work forward," he said.
At the meeting, all panellists unanimously agreed that involving all stakeholders in implementation of projects is a key driver to their success in any country or city. Ms. Shobha Banshetti, newly-elected Mayor of Solapur city acknowledged the work done by ICLEI South Asia in bringing the stakeholders together in past three years of the project and assured that the city would take forward the efforts to manage water better.
The structure of IUWM Toolkit and key tools and experiences that came from implementation of the Toolkit in four project cities were shared with the participants. Thereafter, representatives from Solapur, Ichalkaranji, Jaisalmer and Kishangarh shared their experience and learnings in implementation of the Toolkit and presented the IUWM-based Vision of their respective cities. They were also keen to talk about future action plans.
The highlight of their experiences was the implementation of two pilot projects in each city. The decision to execute these projects was arrived at after a series of discussions with stakeholders. The cities executed the following pilots:
• Jaisalmer: Revival of traditional pond to conserve interlinkages between ponds in the city and door-to-door waste collection and management (composting) for two wards as a model to reduce clogging of drains in the city
• Kishangarh: Closing the water loop at the level of a school located in a slum area by community mobilization for toilet construction under Swachh Bharat Mission, capacity building of school students and construction of toilet block for girls toilet (with decentralized wastewater treatment unit, reuse of treated wastewater for gardening and roof top rain water harvesting). The second pilot project for Kishangarh is also on door to door waste collection and management for two wards
• Solapur: Recharge of abandoned borewells in a peri urban area not catered by Municipal supply using roof top harvesting, revival of defunct community toilet in a peri urban area and reuse of treated wastewater for flushing.
• Ichalkaranji: Decentralized wastewater treatment for a stretch of Kala Nallah (polluted by a mix of untreated domestic and industrial wastewater) and closing the water loop at the level of a slum along the banks of Kala Nallah to reduce the pollutant load on the Nallah. The cities have decided to upscale the project by linking the initiatives to national scheme. For example, Solapur has decided to revive 200 borewells under AMRUT scheme, Kishangarh and Jaisalmer is extending door to door waste collection in all wards of the city and training to Municipal sweepers on segregation, under Swachh Bharat Mission and convergence of pond revival with Mukhyamantri Jal Swavlamban Abhiyan (MJSA) in Rajasthan, and others.
Representatives from cities like Cochin, Shimla, Coimbatore, Rishikesh and Ajmer mulled the need for Integrated Urban Water Management in their cities and agreed that the Toolkit is relevant to their cities too, though with some modifications.
The second day of the closure workshop involved a training session on components of AdoptIUWM Toolkit. For the purpose of training, the participants were divided into groups of participants who were asked to choose priority sectors that impact the water sector and later discussed in detail the synergy between these sectors. In a group exercise, the participants conducted stakeholder mapping and made IUWM action plan.
Overall, the session was useful for the participants to reflect upon the application of IUWM in their city. Subsequently, each group discussed key priorities for the Toolkit and how it can be applicable in their cities.
The session concluded with a vote of thanks from ICLEI South Asia and European Secretariat to all the participants who came together for an exercise that helped each one understand the challenges of the other, thus leading to a holistic learning experience for all and marking a fruitful end to about three years of efforts.