Lessons in sustainability from India's past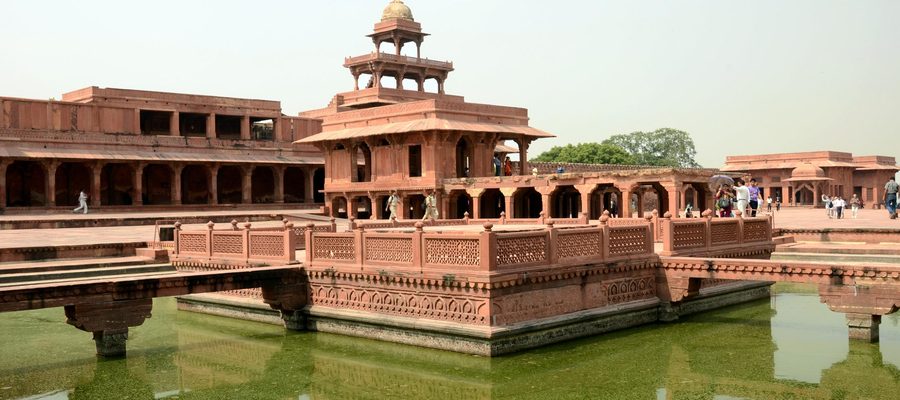 Agra, May 1579.
The mercury has hit 40.2 degrees celsius. The heat rises to form mirages across the city. In the palace of Sikri, Akbar's Ranis haven't the luxury of retreating into their rooms and turning the air-conditioning on. It is a good thing that they don't need to. During the summer, the ladies shift to their summer bedrooms, next to which is a pool of water with a fountain. The fountain, which sprinkles water into the air, allows for a more efficient form of evapo-transpiration, cooling the bedrooms which are fitted with small windows in a large wall (allowing air to move inside with a greater force). In the evening, they have planned a game of Ludo in the court yard of the Panchmahal, a five- tiered pavilion with movable screens which are fixed with grass mats sprinkled with water. Summer in Agra, doesn't really bother them at all.
Playing on physical mechanisms like air velocity, evapo-transpiration, controlling micro climates, landscaping, construction of spaces such as verandahs and courtyards, Mughals ensured that they lived in thermal comfort in an era bereft of modern "technology".
'Sustainability' is a common enough word today that has become part of mainstream vocabulary. It gained traction in 1987 after a report submitted by the Brundtland Commission.
But what does Mughal architecture have to do with Sustainability?
Last year, I attended the UNEP sponsored UN Winter school on Sustainable Consumption and Production (SCP) which was held in the beautiful city of Kandy, Sri Lanka, in November of 2016. The school saw participation from 24 representatives of six South Asian countries. Overall the course enabled a clear understanding of what sustainable consumption and production and resource efficiency are, and how they contribute to sustainable development, poverty alleviation and sustainable livelihoods. Alternative policy instruments, strategy options and institutional arrangements (including networks) for achieving resource efficiency and its subsequent development, climate and environmental conservation outcomes were also discussed. We were encouraged to develop analytical, advocacy and implementation capabilities and skills, through practical piloting of selected resource efficiency methods, techniques and policy instruments which really helped put things into perspective. I think the best part was the backgrounds and nationalities of the participants, most of who brought interesting experiences to the table allowing for better appreciation of the different perspectives and interests of various stakeholders who are affected by, and could potentially contribute to, resource efficiency and its development, climate and environmental benefits.
The biggest takeaway for me, however, was the fact that we all seem to forget, in this era of globalization, solutions that worked many centuries ago (for example: Mughal architectural nuances) which seem to have been replaced in our quest for "development". They were ethical in the sustainable sense and promoted consumption patterns that included principles of resource efficiency.
During the time spent at Winter School, I also realized that the impact that organisations such as ICLEI could have on the sustainability conversation is phenomenal but is often limited only to certain spheres of our professional life. ICLEI pursues 10 agendas which are the following:
Sustainable City Agenda
Low-carbon City Agenda
Resource-efficient and Productive City Agenda
Resilient City Agenda
BiodiverCity Agenda
Smart City Agenda
EcoMobile City (Sustainable Urban Mobility) Agenda
Happy, Healthy, and Inclusive Communities Agenda
Sustainable Local Economy and Procurement Agenda
Sustainable City-Region Cooperation
A lot of what ICLEI does, takes into account the global conversation revolving around sustainability and while there have been several engineering innovations aimed at solutions to the same, we do not tend to include traditional knowledge and case studies from the past that have worked in our specific regions and geographies.
Through this blog series I hope to revisit lessons of sustainability from the past, what worked in an era where the idea of technology was not as coherent as it is today.
To start with, it is important to examine how the term sustainability came about and what it actually means.
Next post will follow soon!