ICLEI welcomes new Deputy Secretary Generals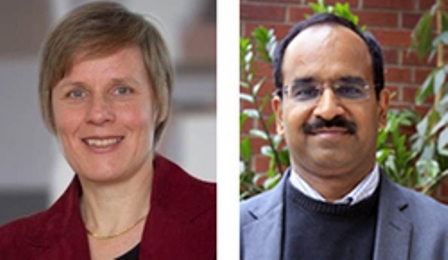 ICLEI is pleased to announce Emani Kumar, Executive Director of ICLEI's South Asia Secretariat, and Monika Zimmermann, former Director of ICLEI's Capacity Center,as the global organization's new Deputy Secretary Generals.

Emani Kumar
Kumar is ICLEI's first Deputy Secretary General from an Asian developing country. Bringing with him a wealth of knowledge and first-hand experience in the areas of climate change policy and planning, local governance, renewable energy and energy efficiency, social accountability, systems management and auditing.
Kumar is the founding Executive Director of ICLEI South Asia. Since 2005, he has been looking after the strategic development of ICLEI in South Asia region and coordinating several multi-year projects and research work related to various ICLEI goals/agendas.
As Asia is gaining increasing relevance in urban sustainable development, climate adaptation and mitigation, Kumar envisions to make the region more reachable and to address the current gap between developing and developed countries at the management level in his role as ICLEI's new Deputy Secretary General.
Monika Zimmermann
Monika´s vision as Deputy Secretary General is to enrich all ICLEI agendas through global projects and global city cooperation networks, further improve the consistency, methodology and description of ICLEI's working approaches and to strengthen the relations to new and existing ICLEI partners.
Joining ICLEI in 1993 when she started to build up the International Training Center at ICLEI European Secretariat, Monika has been responsible for over 50 events, distance training courses, international projects and the set-up of ICLEI's new working areas such as "local Renewables" and Local Action for Biodiversity.
In 2010, she joined the World Secretariat, where she manages the teams working on global events, knowledge management, urban research, EcoMobility and Future City Leaders. Since 2012, she assumed the role of Deputy Executive Director of the ICLEI e.V., the legal body of the ICLEI World Secretariatm where she takes the responsibility as Finance Director. She also supervises the Capacity Center, the Resilient Cities and EcoMobility Teams, as well as the development and coordination of ICLEI's agendas on Resource-Efficient Cities and Green Urban Economy.