Improved access to finance opportunities for Kota, Galle, Dhaka and Thimphu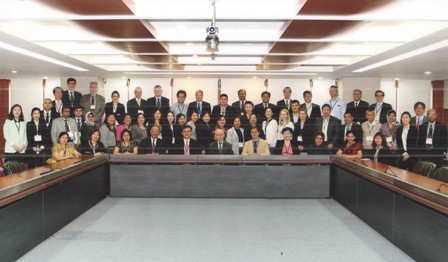 Senior financial officials from ICLEI member cities from the South Asian region, Kota (India), Galle (Sri Lanka), Dhaka (Bangladesh) and Thimphu (Bhutan) availed the opportunity to learn the process of improving the creditworthiness and access to finance of their cities for climate-related infrastructure by being a part of the Second City Creditworthiness Academy which was held in Seoul, South Korea, on April 21-26, 2014. Organised by the Public-Private Infrastructure Advisory Facility (PPIAF) and the World Bank's Low-Carbon Livable Cities Initiative, in collaboration with the C40 Network, the Korea Development Institute (KDI) and the Korean Green Growth Trust Fund (KGGTF), the academy assisted senior financial officials from sub-national and local governments and from public enterprises to develop an action plan to improve their creditworthiness and enabled them to access financing for low-carbon infrastructure project.
The agenda offered an intense set of training modules ranging from revenue management to climate smart capital investment planning, from debt financing options to the enabling environment for sub-national finance. The training emphasized on peer-to-peer learning and the practitioners' perspective. Best practices from the East Asia Region and from across the world were presented and discussed. Site visits were also organised by KDI. Follow on support to help cities implement the action plan will be provided to selected participants after the Academy under the broader City Creditworthiness Program supported by all sponsors.
As a next step, the Academy would be ready to support the Asian cities to assess their creditworthiness.
For further information, visit: