AdoptIUWM cities come together to review progress and share experiences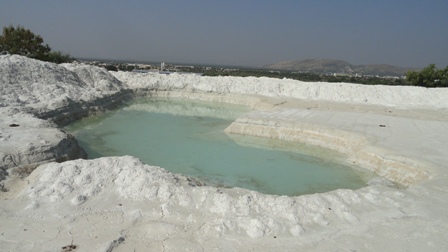 A Review cum Sharing Workshop for Urban Local Bodies in Development was conducted by the European Commission at Pune on 3rd and 4th April, 2014 in which officials from project cities for Adopting Integrated Urban Water Management in Indian cities (AdoptIUWM) – Jaisalmer and Kishangarh in Rajasthan, Solapur and Ichalkaranji in Maharashtra, came together with the ICLEI South Asia team, stakeholders and experts from other EU funded projects, with the goal to review the progress of the project and benefit from the peer learning environment.
The ICLEI team presented the progress on the activities undertaken during the first year of the project, the issues identified in the four cities and the plan for upcoming year. The major issues faced by the cities that were highlighted in the workshop are:
Jaisalmer: Lack of conservation of interlinkages of ponds in the city and dilapidation of traditional Rain Water Harvesting structures; Transmission & Distribution losses in Jaisalmer are as high as 40%;
Kishangarh: Pollution caused due to marble slurry discharge from the marble processing units which enters the water bodies in the city; eutrophication of ponds caused due to untreated wastewater discharge;
Solapur: High costs of pumping water from distant source and issues of depleting groundwater table;
Ichalkaranji: Untreated effluent from industries causing pollution of water bodies.
As part of the workshop, the participants from the various project cities visited the various initiatives of Pune Municipal Corporation and local NGOs. The city representatives got a firsthand experience of sanitation initiatives and a biogas plant. The participants also had the opportunity to witness an awareness generation play on the 'Clean Pune City' initiative performed by the volunteers of an NGO.
Every participant gained from the sharing of ideas and experiences at the workshop and the city officials from project cities got an opportunity to interact with solution providers to discuss their issues and plans like wastewater reuse in their cities. The interaction the ICLEI South Asia team undertook with the National, State and City Level officials to increase project ownership was much appreciated.
For further information on the AdoptIUWM project and its South Asian activities, visit:
http://southasia.iclei.org/our-goals/resource-efficient-city/adoptiuwm-adopting-integrated-urban-water-management-in-indian-cities/